Domaine Bachelet-Ramonet Puligny-Montrachet les Enseigneres 2017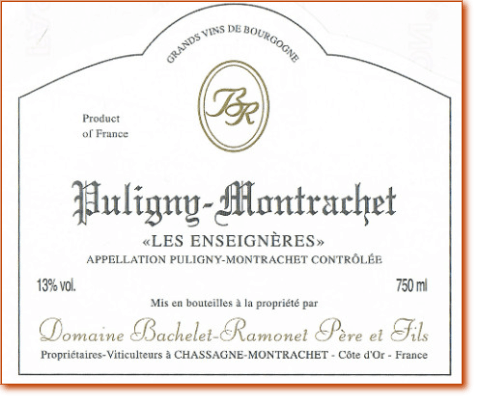 For four generations, the domaine of Bachelet-Ramonet has been located in the heart of the Côte d'Or, south of the Côte de Beaune, in the town of Chassagne-Montrachet. This famous village is one of five villages in the 'Côte des Blancs', a strip of land considered to be the best place on earth for white wine, with an international reputation for excellence. The family produces small batches of Chardonnay from Les Enseignères vineyard, the most famous of the Puligny-Montrachet 'villages' vineyards, thanks to its exceptional geographical location near the grand cru vineyards of Bienvenues-Bâtard-Montrachet and Bâtard-Montrachet (just 5 meters away!).
The nose on this Les Enseignères is rich with citrus fruit, white peach, flowers, bacon, honey, cloves, vanilla and minerals. This has all of the savory power, depth of character, the richness of the experience and the sheer elegance that one expects from a wine from Puligny-Montrachet. The palate follows through with the same flavors as its perfume with a fine thread of acidity, vibrancy and mouthwatering salinity on the finish. A classic, satisfying rendition of this superior village lieu dit with good aging potential.