Caballito Cerrero Chato Blanco 46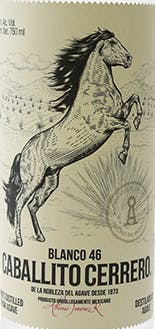 Unavailable
We're sorry, but this product is not currently available.
'Tequila Boss' raved about the Caballito Cerrero saying, 'I can't get enough of this powerful nose - it is loaded with fruity, jammy and floral notes. Big agave aroma with a distinct punch of peach. Flavors: Zingy brown spices, oily brown sugar coating my mouth with pepper and alcohol making an appearance too and whisps of smoke like a Mezcal. Finish: All of the above treats, plus pepper heat and lingering almond notes.' Made from 100% Agave with Wild and Propietary Yeasts, Blanco 46 is made with Chato agave, so it is not technically 'tequila', but sure behaves like a really good one!
Nom 1114 in Amatitan, Jalisco, is the producer of Caballito Cerrero and considered one of the top tequila distilleries in the world. They're committed to producing Tequila the traditional way and that sometimes means they run afoul of the Consejo Regulador del Tequila (or CRT). The regulatory body of the tequila industry and this little distillery in Amatitan have not seen eye to eye. Nonetheless, Caballito Cerrero has become a legend among Tequila's cognoscenti. This product is one of the very reasons Caballito has had trouble getting their spirits certified by the Mexican regulators. By using the rare, but traditional agave varietal "Chato", Angustfolira Caballito has crafted a historically significant link to the old ways of producing Tequila. This squat agave is not uncommon in the valley around Guadalajara and would have been used in distilleries to produce spirit prior to the tequila "normas" being established in the middle of the 20th century. Caballito Cerrero has re-established the cultivation of the historical plant with this extremely unique and delicious agave spirit. It does provide a glimpse into the past, connecting us with what the great spirit of Mexico might have tasted like 300 years ago. Chato's distinct character can only be described as more vegetal than the Blue Weber.