Asbury Park Distilling Barrel Finished Gin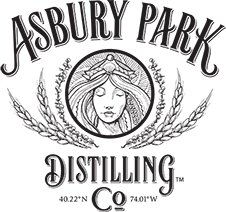 This unique and delicious craft spirit is a 'Barrel Finished' Gin made of 100% corn mash and finished in new American oak barrels for about 4 months. The oak aging of gin such as this neutralizes the citrus notes of the original gin, and gives this spirit more spice and herb notes, as well as Single Malt-like hints of smoke and heather. Look for a light amber color with aromas of toasty oak, vanilla, honey, honeysuckle, flowers and smoke. Flavors of spices, leather, honey, pipe smoke and juniper complicate the palate which has medium body and a velvety mouthfeel. The perfect Gin for cocktails or to sip neat. Whip up a Bee's Knees with this gin, lemon juice and honey.
We are proud to offer you Asbury Park's first and only distillery since Prohibition, Asbury Park Distilling Co., produces the highest quality hand-crafted spirits. The production facility and tasting room is located in the heart of Asbury Park's downtown business district, using top-of-the-line equipment, to distill vodka, gin and bourbon, with more spirits to come. The mission at this small craft distillery is to uphold the artisanal spirit of the historic town of Asbury Park. We have tasted and loved all of their spirits including vodka, gin, barrel finished gin and bourbon. If you love cocktails, on-the-rocks and/or 'all that is local', you need to try these spirits!
*** 2018 Silver Medal Winner American Distilling Institute ***
~~~ Asbury Park Distilling Co. is where the Spirit never dies ~~~