Martin Arndorfer Vorgeschmack Red 2017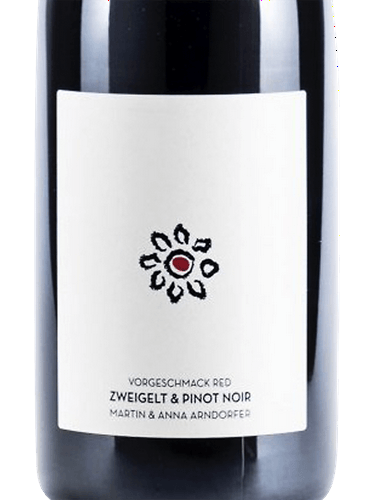 This Austrian red was a wonderful discovery at a recent trade tasting in NYC. Made of 80% Zweigelt and 20% Pinot Noir, this is supple and clean with blue and red fruits tantalizing the palate. Aged in neutral oak, the 2017 turned out perfectly for our palate preference. Sometimes Austrian reds can come off too lean and too acidic...this one is not lean at all, it is ripe, delicious and well-balanced with fresh, but not overbearing acidity. The wine is called Vorgeschmack which means 'appetizer' in German. The Arndorfer's also produce a Vorgeschmack white which we carry as well.
Young winegrowers and married couple Martin Arndorfer and Anna Stieninger come from long lines of winemakers in Austria. Martin grew up in the vineyards and cellar of his parent's estate, and Anna is the daughter of Karl Steininger, one of the most respected winemakers in Austria. Both born with a genetic love and a nurtured appreciation for for Riesling and Grüner Veltliner grapes, these two are making delicious joyful wines of Austria which we first tasted when we met them during a trip to Piedmont, Italy.
In Strass, Austria, the hills are full of vineyards, the flat close to the Danube River mostly grows grain. Arndorfer is located in the northern reaches where wine can grow, only 15 kilometers south it is considered too cold, and the land is dedicated to grain. This cool weather is important for the distinctive style of Arndorfer. Kamptal is mainly planted with white grapes, usually Grüner Veltliner and Riesling. The soil and climate help the grapes develop a unique regional expression. In reds, the two most important varieties in Kamptal are Zweigelt and Pinot Noir, blended in this red to show more regional character than single varietal. Only 400 cases made.
While many value Zweigelts see a heavier hand, Martin's deft artistry shows at this entry level by not over making the grape and allowing it to seamlessly blend with the lighter Pinot. The Arndorfers produce wine for pleasure and with pleasure. They pay close attention to the details, but ultimately believe that wine is for enjoyment, and not to be coveted or worshiped. It is nice to discuss wine, but it is there to enjoy above all else.