Chateau d'Epire Anjou Rouge Clos de la Cerisaie 2017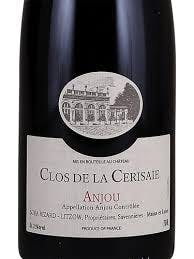 Unavailable
We're sorry, but this product is not currently available.
One of the oldest and most celebrated domaines in Savennières, Chateau d'Épiré is rich in history, not only for its fabulous architectural rendition of the Petit Trianon of Versailles, but most especially for its exquisite wines. Savennières is situated just southwest of Angers, on the north bank of the Loire River. Vines have been cultivated there since the time of the Romans. The Plantagenet dynasty allowed for the first exports of the wine to be sent to Great Britian in the 11th century. The domaine itself has been in the Bizard family continuously since the 17th century. The most recent owners and caretakers of the land are Monsieur and Madame Luc Bizard. They own eleven hectares, nine of which are entirely dedicated to the cultivation of Pineau de la Loire, known today as Chenin Blanc. The château is exquisite, but the pièce de résistance is their winery, formerly a Romanesque chapel, which is from the 12th century. Truly a blessed wine!
Despite the beauty and timelessness of the building structures, it is the vineyard for which the domaine is best known. The Savennières white from Épiré is regarded as Grand Cru. The subsoils are comprised of sandstone and schist, and the top soil is a beautiful blue slatey schist that covers the vineyard floors, lending nerve and firmness. In addition to the white wines of the estate, Chateau d'Épiré produces tiny quantities of this Anjou Rouge Clos de la Cerisaie. The vineyard is an actual clos, but part of the ancient walls have collapsed. Fermentation is performed with indigenous yeasts in stainless steel. Primary fermentation lasts 15 days, with daily pumpers. The wine ages in 30 hectoliter stainless steel tanks until spring and is bottled in April. Neither filtered nor fined.
Bottle ShopWonderful ripe dark berries, flowers, coffee and earthy graphite aromas lead to more of the same in the mouth with a chewy, fresh mouthfeel along with hints of leather and herbs on the finish. This is an excellent example of Loire Valley Cabernet Franc from very old vines. Very Good.