Knappogue Castle Twin Wood Irish Whiskey 14 year old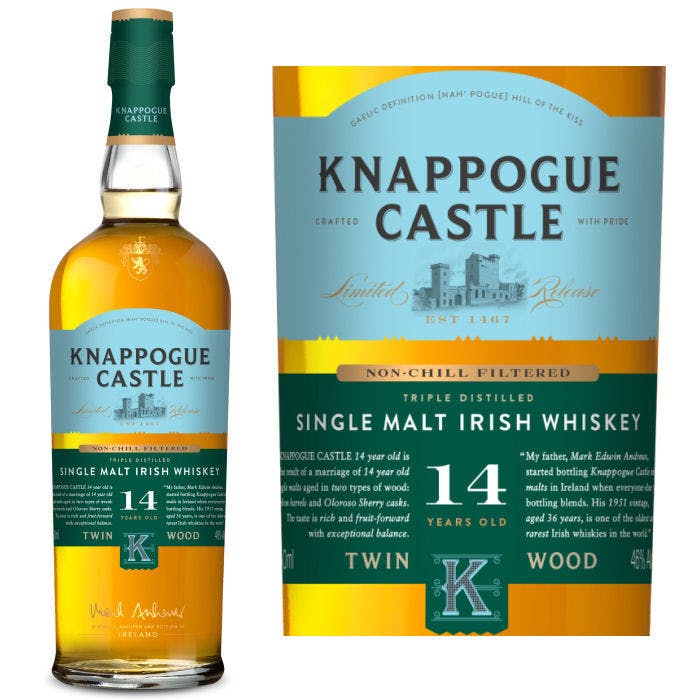 Knappogue Castle 14 year old is a multi-gold medal winning Irish Whiskey, which is the result of a marriage of 14 year old single malts aged in two types of wood: bourbon barrels and Oloroso sherry casks. It is non-chill filtered, triple distilled and bottled at 92 proof in limited quantities. The color is a light, reddish gold. The nose shows the orchard fruits typical of Knappogue Castle Irish Whiskey, but is given depth by the Oloroso Sherry cask-aged whiskey. This results in hints of fleshy fruits - like plum and apricot. The taste is rich and fruity with hints of green apple and the zest of fresh grapefruit. The malt helps to bring out the quality of the wood - sweet vanilla with light tannins from the charred oak. The finish is lengthy, with full fruity notes transitioning to a dry, barley-tinged finish. Knappogue Whiskey is named for the Knappogue castle, built in the 15th century, which was renovated back to its original glory in the 1960's and '70's. The word itself has a meaning of its own: Knappogue (pronounced Nah' Pogue) translates to 'Hill of the Kiss' in Gaelic. Such a romantic word is only fitting for such a beautiful and iconic landmark, and such a beautiful Irish whiskey.
Wine EnthusiastThe aroma of this light-gold whiskey mixes notes of faint smoke and fresh apple. On the palate, vanilla, citrus and dried fruit mingle with an oaky astringency and strong alcohol heat. Aged for 14 years in oloroso Sherry casks and Bourbon barrels.