Fratelli Revello Barolo 2015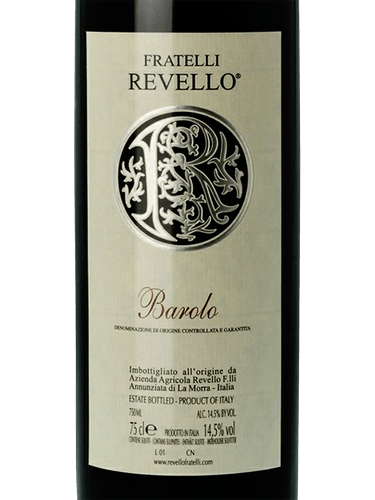 Unavailable
We're sorry, but this product is not currently available.
About 10 years ago, brothers Enzo and Carlo Revello took over their father's nine-hectare estate and almost immediately became one of the hottest estates in La Morra. The brothers are also very close to Elio Altare, who, along with Beppe Caviola, has worked with them since their decision to leave their previous careers for full-time winemaking work. Enzo works mainly in the cellar and Carlo in the vineyard. Since the release of their first Barolo (1993 vintage), which was a blend of fruit from all of their vineyard holdings, the brothers have released four cru bottlings, "Giachini", "Rocche dell'Annunziata", rare "Conca" and the "Gattera," first released in 1999.
This 2015 Barolo normale is a knock-out at a great price. Made of 100% Nebbiolo planted in calcarous clay soils. Maceration for 4-5 days at 30-32°C of temperature, fermentation in stainless steel tanks, aging in French oak barriques (20% new) for 20-24 months. The wine is cellared in the bottle for 8 months before release.
The vineyard is farmed with organic methods. No insecticides are used. Only organic fertilizers (manure) are used (every 3-4 years). Natural cover crops (grass cover) are left between the rows of vines. The grass is mowed and in autumn the soil is tilled (every other year). Very low doses of SO2 are used in in the wines.
'Revello embodies the finest values of Piedmont's artisan culture.' – Antonio Galloni
James SucklingThe dark-berry, strawberry and charcoal aromas are impressive. Full bodied and totally integrated with wonderful presence and composure of fruit and tannin balance. Lovely finish. Lingers.