Cavicchioli 1928 Prosecco Holiday Limited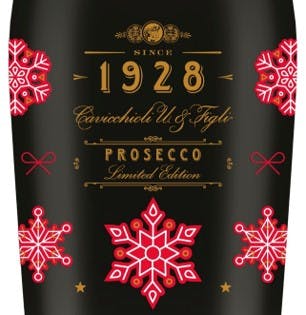 Unavailable
We're sorry, but this product is not currently available.
Limited edition 'Holiday' bottle :: The Cavicchioli family has been cultivating vines in the San Prospero province of Modena in the Sorbara DOC for over 100 years. Then in 1928, Umberto Cavicchioli began bottling the wine under his family name; today, it is Umberto's two grandsons, brothers Sandro and Claudio, who are in charge. Claudio looks after the commercial side of the family business and Sandro is the winemaker. The family's focus on vineyard ownership, low yields and DOC production has been instrumental in establishing Cavicchioli as one of a leader in high-quality Lambrusco and Sparkling wines.
This Prosecco is a DOC Spumante Extra Dry. Spumante simply means sparklilng in Italian, and Extra Dry is usually fruitier than a Brut. But in this case, this Prosecco is actually on the drier side, making it crisper and more food-friendly. Made of 100% Glera grapes in the province of Treviso, the grapes are handpicked in the vineyard before heading to the winery for temperature controlled fermentations. Look for ripe lemon, white flower, ginger and bread aromas followed by a crisp, thirst quenching palate of more citrus, flowers and green apple with hints of mint and minerals on the finish. Serve as an aperitif or with white fishes, shellfish, goat and sheep's milk cheeses and more...