Francois Baur Pinot Gris 2017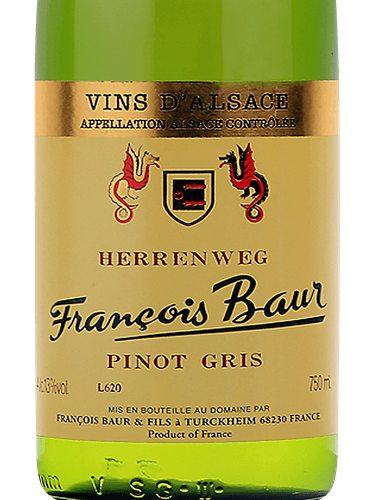 Unavailable
We're sorry, but this product is not currently available.
Francois Baur Pinot Gris is a creamy yet fresh white with ripe and juicy pear and tangerine flavors layered with dried apricot, almond, honey and spice, all backed by bright acidity. Only about 100 cases made, this is from a small artisanal estate. Pair with game, veal, pork, duck foie gras and poultry, rich sauces and mushrooms.
The Baur family has lived in Turckheim since 1741 and today it is the 9th generation of Baur family members to produce wine in the great region of Alsace. Pierre Baur is the son of Francois Baur, and the Domaine Baur comprises 27 acres of vines. Half of these are within the famous Grand Cru vineyard of Brand, making the Baur family one of the largest landowners in Brand (which has other serious growers such as Boxler, Josmeyer and Zind-Humbrecht as neighbors). Baur also owns vines along the plateau Herrenweg, whose heavier soils provide the wines with exceptional richness.
Today Thomas Baur, son of Pierre, takes care of the vineyards and winemaking; since 2001 the family has been fully biodynamic in the vineyards--a totally natural approach to the cultivation of vines that makes every attempt to respect the plants, the soil and the environment. Work is scheduled according to the phases of the moon, often at night while the vines are resting and not fatigued by the sun. Studying in the same biodynamics class as Jean-Michel Deiss, one notes the fervor with which Baur now addresses his work; it has become a religion to him and he trusts nature in his vineyards. Harvest is done manually, vinification takes place with natural yeasts in large foudres.