Pian Dell'Orino Brunello Di Montalcino Vigneti Del Versante 2012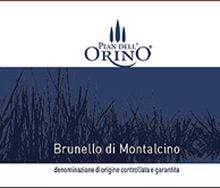 Pian dell'Orino is one of the shining stars in Brunello di Montalcino. The estate is located right next door to the most famous name in Brunello history, Biondi Santi. Pian dell'Orino is run by Caroline Pobitzer and Jan Hendrick Erbach, who both co-own the estate and are extremely passionate about producing the highest quality wine in the most harmonious methods possible to protect their environment. Consequently, the estate's six hectares of vines have been farmed completely organically for many years and are now cultivated under biodynamic principles.
In the vineyards of Pian dell'Orino only Sangiovese Grosso is grown (other than small plots of cabernet and merlot for their Super Tuscan bottling, Piandorino), and yields are kept to a very low level, with green harvesting practiced in every vintage to reduce yields to only four bunches per vine. Meticulous oversight in the vineyards during the entire growing season ensures that only the finest quality fruit is still on the vine at the time of harvest, and the harvest is conducted solely by hand. Once the grapes reach the cellar they are treated as lovingly and as naturally as possible, and no modern cellar wizardry such as cultured yeasts, extraction enzymes or added grape must is ever utilized, with the wines fermenting on their indigenous yeasts gently and thoroughly before being aged in a combination of barriques and large botti for one to several years prior to bottling, depending on the wine.
Vigneti del Versante is the name for Pian dell'Orino's Brunello di Montalcino. This name indicates that the grapes for this Brunello come from 100% estate vineyards.
Wine AdvocateThis wine exudes elegant power and linear finesse. The 2012 Brunello di Montalcino Vigneti del Versante has not yet been released. In fact, it will hit the market after the younger 2013 vintage. We should expect to see it in the fall of 2018. The bouquet offers so much care and detailing that all comes together like a massive ceiling fresco in an Italian Renaissance palace. The bouquet allows for a big picture perspective with wild cherry, rose hip, dried ginger, rosemary and spice. The mouthfeel is firm, almost crunchy. Swirl the glass a few times and savory tones of moist earth and exotic tea begin to appear. This is a beautiful wine worth waiting for.