Terredora di Paolo Falanghina 2019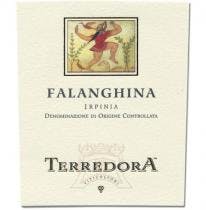 Terredora Di Paolo is a story of a family that is closely linked to Campania, its land, its history and its people for many generations. The Mastroberardino family is the most famous wine family in this region. With 494 acres of privately owned vineyards in the best sites of the Avellino province, Terredora di Paolo is one of the most important wineries in southern Italy, focusing on vineyards and high quality, authentic wines. Since its establishment in 1978 (when part of the family broke away from the ever-growing Mastroberardino brand), Terredora di Paolo has focused on rediscovering and restoring Campania's ancient and native varietals such as Aglianico, Fiano, Greco and Falanghina. These varietals are key players that have brought about Campanian's wine renaissance.

This unoaked Falaghina white of Irpinia has a rich and intense aroma of fruits with apple, pineapple, quince and pear. Fresh and clean in the mouth with good acidity and structure, it pairs well with fish, soups, cheeses and white meat dishes with lemon and herb accents in particular.