Château Ducru Beaucaillou Saint Julien 1996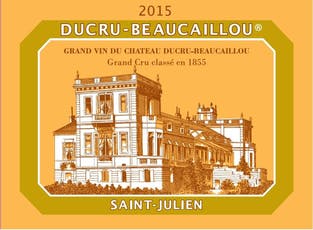 $299.00
Save $30.00 (10%)
$269.00
SKU 04752
750ml
1996 is possibly the best Cabernet Sauvignon vintage for 50 years, and this classic St. Julien is the best Ducru Beaucaillou since 1982. Exhibiting classic Bordeaux, flavours of cassis, lead pencil, toast and blackcurrant leaves with an elegant floral note, and balanced tannins that will aid a long life. We anticipate it will last until 2030...
Ducru Beaucaillou is one of the oldest Bordeaux wine producing estates in the Medoc dating back to the befginning of the 13th century. As a working Bordeaux vineyard in Saint Julien, the Bergeron family was in charge the chateau from 1720. Bertrand Ducru purchased the estate in 1795. He added his name to the winery which quickly earned fame under the name of Chateau Ducru Beaucaillou. Ducru Beaucaillou also hired the well known Parisian architect, Paul Abadie to create a special chateau on the property.
Following more than seven decades at the helm of Ducru Beaucaillou, they sold the Saint Julien property to Lucie Caroline Dassier in 1866 for one million Francs, a record breaking cost for a wine estate at the time. Dassier was the wife of the famous Bordeaux wine merchant, negociant Nathaniel Johnston. Nathaniel Johnston knew what was needed at Ducru Beaucaillou. Johnston replanted the vineyards, modernized the cellars and performed numerous experiments on grape varietals and vine diseases.
Loses suffered from the 1929 depression forced the Johnston family to sell Chateau Ducru Beaucaillou to the Desbarats family. The Desbarats family, who were successful Bordeaux wine merchants sold the estate to Francis Borie in 1941. The Borie family by this time had extensive roots in the Bordeaux region. They moved to Bordeaux in the late 1800's and started out as negociants. Today, the Borie family also own Chateau Grand Lacoste and Chateau Haut Batailley in Pauillac as well as other vineyards in the region. In 1953, Jean Eugene Borie took over the property, following in the footsteps of his father, Francois Borie. In 1978, Francois Xavier Borie began working at the estate full time, eventually taking over from his father after his passing in 1998. That continued until 2003 when his son Bruno Borie took over. He has become one of the most respected people in all of Bordeaux and taken Ducru-Beaucaillou to even higher heights.
Wine AdvocateI tasted the 1996 Ducru Beaucaillou on four separate occasions from bottle in January. The 1996 is long, with a deep mid-palate. It also reveals tannin in the finish. This wine is remarkable. It is muscular, concentrated, and classic. Bottled in late June, 1998, it exhibits a saturated ruby/purple color, as well as a knock-out nose of minerals, licorice, cassis, and an unmistakable lead pencil smell that I often associate with top vintages of Lafite-Rothschild. It is sweet and full-bodied, yet unbelievably rich with no sense of heaviness or flabbiness. The wine possesses high tannin, but it is extremely ripe, and the sweetness of the black currant, spice-tinged Cabernet Sauvignon fruit is pronounced. This profound, backward Ducru-Beaucaillou is a must purchase. It will be fascinating for readers who own the 1996 to follow the evolution of this exceptional vintage. Anticipated maturity: 2008-2035.
Wine SpectatorA thoroughly outstanding wine, sleek and racy with loads of character. Intense floral and blackberry aromas, with hints of mineral. Full-bodied, with supersilky tannins and a long, long finish. Give it time. Best after 2003. 18,000 cases made.