Feudo di Santa Tresa Cerasuolo di Vittoria 2015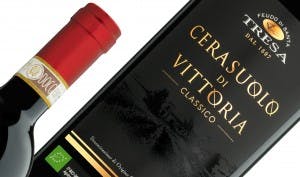 Unavailable
We're sorry, but this product is not currently available.
In 2005 Cerasuolo di Vittoria became Sicily's first Dominazione Origine Controllata e Garantita wine -the highest stamp of quality that can be given to an Italian wine. As a blend of Vittoria's Frappato grape variety and Sicily's Nero d'Avola, Cerasuolo di Vittoria is very typical of the Sicilian terroir. The Santa Tresa Cerasuolo di Vittoria revives this historically important style of wine and introduces a modern interpretation of it to wine drinkers around the world. The bouquet is of dark, ripe berries. The palate is soft, with well-rounded fruit, reminiscent of blackberries and damsons. This is an elegant wine, with a certain finesse and a lovely long finish. In Sicily they have a local dish "Pasta alla Norma", which goes perfectly with Cerasuolo. It's a tomato sauce, with eggplant fried in olive oil, all mixed together with some ricotta cheese. Cerasuolo is delicious served slightly chilled and locals drink it with with meaty fish such as tuna and sword fish.
In 2002, Stefano Girelli and his sister Marina joined forces with Massimo Maggio to take over the ancient Santa Tresa estate. They have all worked all of their lives in wine production (Stefano and Marina for the family firm, Casa Girelli, for over 30 years) and when they discovered the wonderful vineyards at Santa Tresa, they set about restoring the estate to its former glory – something they have worked on tirelessly ever since. Their fundamental ethos is to work in harmony with the natural environment at Santa Tresa and this is the lifeblood of the estate. They have further guaranteed the quality by hiring Stefano Chioccioli as consulting enologist.
They have built on the foundations of the seventeenth century estate, maintaining its traditions and respecting the indigenous flora and fauna. They immediately found the conditions for growing grapes were so perfect that they could cultivate the vines in the most natural, non-interventionist way possible, which ultimately culminated in the estate becoming certified organic with the 2009 vintage.