Feudo di Santa Tresa Avulisi Nero d'Avola 2015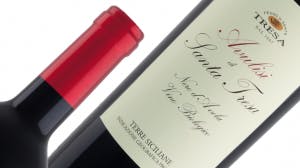 Come taste this beautiful expression of the Sicilian grape Nero d'Avola, on Saturday September 28 from 3-5 pm during Spring Lake's annual Italian Festival. In 2002, Stefano Girelli and his sister Marina joined forces with Massimo Maggio to take over the ancient Santa Tresa estate. They have all worked all of their lives in wine production (Stefano and Marina for the family firm, Casa Girelli, for over 30 years) and when they discovered the wonderful vineyards at Santa Tresa, they set about restoring the estate to its former glory – something they have worked on tirelessly ever since. Their fundamental ethos is to work in harmony with the natural environment at Santa Tresa and this is the lifeblood of the estate. They have further guaranteed the quality by hiring Stefano Chioccioli as consulting enologist.
They have built on the foundations of the seventeenth century estate, maintaining its traditions and respecting the indigenous flora and fauna. They immediately found the conditions for growing grapes were so perfect that they could cultivate the vines in the most natural, non-interventionist way possible, which ultimately culminated in the estate becoming certified organic with the 2009 vintage.
This very special Nero d'Avola is made from their oldest vines, more than 50 years in age. Production per hectare is strictly limited in order to achieve the highest possible quality level – around half the production of most Nero d'Avolas. Therefore quantities are also strictly limited, with a maximum of only about 4,000 bottles being produced a year. From these old vines, only the very best quality Nero d'Avola grapes, which are perfectly ripe and in excellent condition, are used to create the ultimate Nero d'Avola in the finished Avulisi wine. The wine is aged in small, new oak barriques for at least twelve months before bottling. Only 333 cases made.
Avulisi has a deep bouquet of wild berries, blackcurrants and spices. The blackcurranty fruit continues to come through very noticeably on the palate, which is rich, ripe, intense and very, very long. Avulisi's rich, robust character complements hearty, wintery dishes such as game stews, or richly flavored barbequed red meats. In Sicily there are lots of wild boar roaming the island, and the family's favorite dish with Avulisi is roasted wild boar with sage and honey.