Pascal Cotat Sancerre La Grande Côte 2017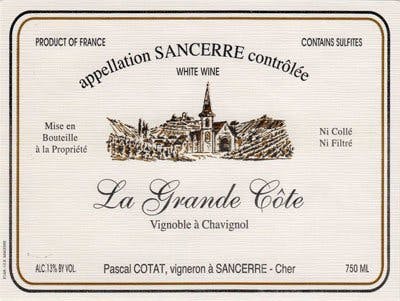 Unavailable
We're sorry, but this product is not currently available.
From 1947 until the early 1990s, Brothers Francis and Paul Cotat made one cuvee of each wine in Sancerre, under the Francis Cotat label or the Paul Cotat label. Same wine, two labels. The French government then interceded, deciding it illegal for two "independent growers" to combine their production to make single cuvees of a wine in a shared cellar even though they were in the same family. When the two brothers retired and turned their vineyards over to their sons, Pascal (son of Francis) and Francois (son of Paul) separated their production to make things easier...
Pascal usually harvests a few days later than does Francois. While Pascal's grapes are subsequently a bit more ripe, the wines come across as drier and perhaps a bit more minerally than Francois' wines. "Pascal Cotat produces old-style Sancerre, quite different from the norm found today… rich, full flavored, thick, and sometimes not bone dry. They are some of the finest Sauvignon Blancs I have ever put to my lips." Robert Parker Look for aromas of lime zest, fresh pear, light herbs. Juicy and penetrating, with lots of mineral expression. Textured yet very dry. Flavors of stone fruits, crushed stones, light pepper. Pair with rich seafood dishes, aged cheeses and white meats.