Domaine Hudelot-Baillet Chambolle Musigny Les Charmes 2016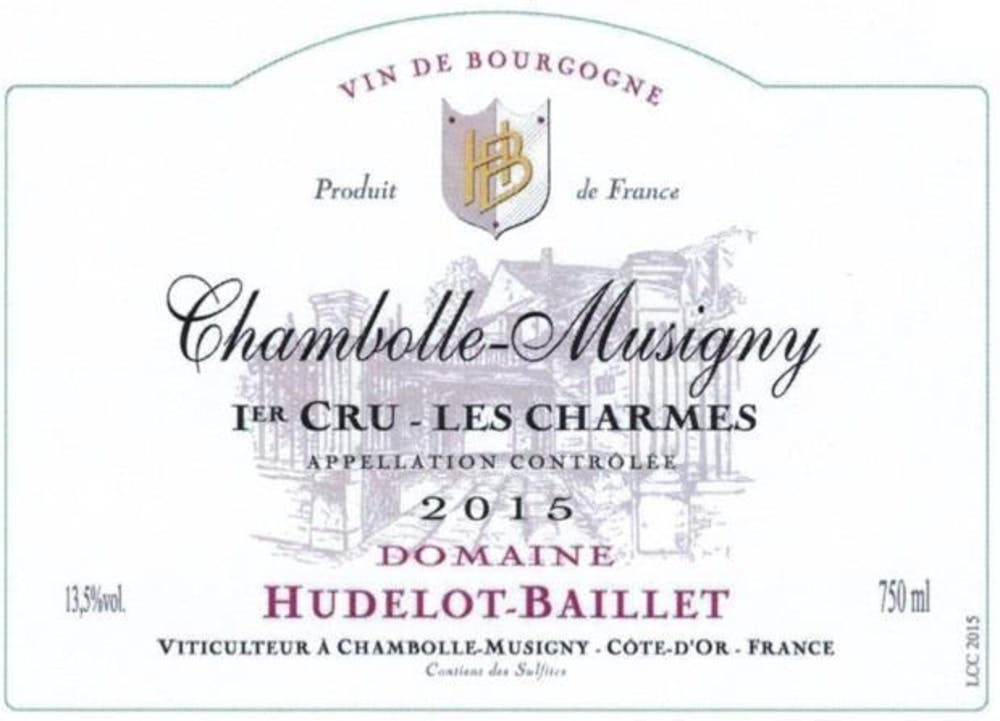 Crafted from a .63 ha parcel in the premier cru vineyard of Les Charmes in Chambolle-Musigny that produced less than 10 barrels of wine, this is a beautiful example from the 2016 vintage. Dominique Le Guen, who is the son-in-law of founder Joël Hudelot, began working at this 8.5 ha domaine in 1998. Le Guen described the 2016 growing season as "one that was difficult but once conditions ameliorated in July, it was pretty much smooth sailing after that. The harvest was quick because there wasn't much fruit and what there was very clean and ripe. As such the vinifications were easy though the malos were quite long and slow. As to the wines, they should drink well basically upon release yet there's no reason that they shouldn't age well too."
Domaine Hudelot-Baillet is a true Chambolle-Musigny producer with cellars in the town as well as holdings entirely within the appellation. The domaine was created in 1981 by Joël Hudelot (inherited largely from his father Paul) and his wife Chantal Baillet. Joël retired in 2004 and passed along the reins to his son-in-law Dominique Le Guen, who had been working with him at the domaine since 1998. The viticultural philosophy is organic though the domaine is not technically certified. There are no insecticides used and sexual confusion is employed instead to combat problematic bugs. The harvest is performed manually with sorting work done in the vineyards and again at the cuverie if necessary. The fruit is 100% destemmed, and the new oak program averages 30% for the villages wines, 40% for the 1er cru's and 50% for the Bonnes Mares. The wines are given 12 to 18 months of élevage before being bottled, generally without fining or filtration. Hudelot describes his intended style as one of finesse, succinctly explaining that "all of my appellations are in Chambolle and finesse is what we do best."
Wine AdvocateThe 2016 Chambolle-Musigny 1er Cru les Charmes was reduced to six barrels this year, instead of the usual eleven, due to frost damage. It has a dense blackberry and briary-scented bouquet, a little distant at the moment and maybe just missing a little joie-de-vivre. The palate is smooth and silky in the mouth with a fine line of acidity, better salinity than the Vieilles Vignes, with a long and detailed, energetic finish. This has very good potential.
BurghoundModerate wood frames the ripe and agreeably fresh aromas of cherry, plum, dark currant and a whiff of violet. The intense and again solidly dense flavors possess a caressing mouthfeel before terminating in a saline and youthfully austere finale. This too is quite firmly structured though in this case there is a bit more refinement. 89-92