Domaine Antoine Jobard St-Aubin Sur le Sentier du Clou 2015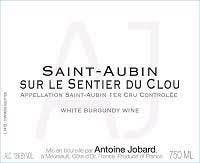 Unavailable
We're sorry, but this product is not currently available.
Super limited white Burgundy from renowned Meursault domaine. François Jobard was one of the first vignerons that Kermit Lynch imported when he began prospecting for wines in France in the 1970s. The relationship has endured into the next generation, and François' son Antoine now runs the domaine. This is as classy and as consistent a property as you'll find in Burgundy. All the Jobard wines are aged in barrel and spend a lengthy period of time sur lie in their cellars in Meursault. Jobard has an unhurried approach to vinification and typically slow malolactic fermentations. In their youth, these wines are often tightly wound with an intense mineral structure that only begins to soften with extended bottle aging. Though François and Antoine work side by side, Antoine has brought his own signature to the domaine: a more sensuous approachability to the wines. That said, the Jobard legacy lives on, and the wines will still explode with intense aromas of honeycomb and stone later in life. If you just can't wait, there's no reason not to uncork.
Wine AdvocateThe 2015 Saint Aubin 1er Cru Sous la Sentier du Clous was showing a touch of reduction on the nose, although it showed more complexity than the Les Perrières, a bit more ambition. The palate is fresh and vibrant with crisp acidity, a hint of nutmeg and spice here with good density and length on the finish. I suspect it will drink straight from bottling, but could age with style. This is one to watch.