Sagamore Spirit Double Oak Rye Whiskey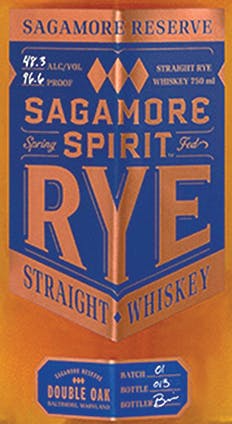 Unavailable
We're sorry, but this product is not currently available.
Located in Baltimore along the Patapsco River, Sagamore Spirit Distillery is continuing the legacy of craft whiskey in Maryland. The state was home to 44 distilleries before Prohibition, including at least 13 in Baltimore, according to Sagamore. They were converted to ethanol plants during World War II, and only a few resumed making whiskey when the war ended. Today, all of Sagamore's whiskies are made with Sagamore Farm spring water.
Three diamonds : Two Barrels : One extraordinary Straight Rye Whiskey : After aging their award-winning spirit for four years, Sagamore places it into a second oak barrel - and wait. The new toasted staves re-energize the aging process, creating flavors full of caramel and dark vanilla and colors that radiate amber and warm chestnut. It's a straight rye whiskey perfect for the spirit of celebration. Aroma: Abundance of Vanilla, almond, and oak with hints of toasted marshmallow. Palate: Exploding caramel and vanilla. Color: Dark amber. Finish: Smooth and warm finish.