Le Potazzine Rosso di Montalcino 2018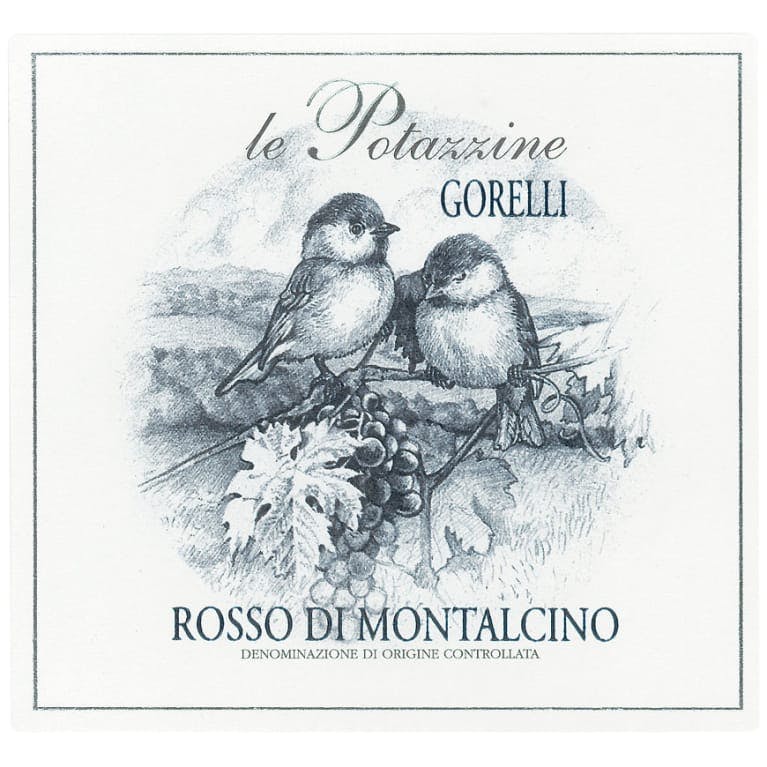 We visited this wonderful family estate during the 2009 harvest in Montalcino and had the honor to taste wines with Guiseppe Gorelli from both bottle and barrel. He is a very thoughtful, quality-driven winemaker who balances tradition with modern know-how and captures the true essence of Montalcino. The wines are made in very small quantities in a traditional style. His Rosso di Montalcino is one of the best in the region. His wife Gigliola Gorelli runs a local restaurant in the town of Montalcino, helps him in the vineyard, and takes care of their two daughers.
T
he name of their tiny estate was actually inspired by the couple's two daughers, who they call Potazzine : which is the name of a local bird (featured on the label), due to their constant 'chirping' to each other from the time they were babies. The Gorelli's first vintage under the Potazzine label was 1997, but Guiseppe comes from a long line of Brunello di Montalcino producers. Today he owns vineyards in both the north and the south, since he believes each area imparts different positive qualities such as richness, balance, aromas, acidity, terroir components and structure. He is dedicated to healthy vineyards, old vines and low yields. Also dedicated to natural winemaking, Guiseppe only uses wild yeasts in the winery, and the wines go through a long, natural fermentation of about 30 days. Many years ago, Guiseppe made the big decision to stop using any small oak barriques for aging, as he felt the wood component was too strong for the supple, balanced style he was seeking. Today, he uses 100% Slovenian oak in 10 hectolitre and 30 hectolitre sizes. These wines are wonderful to pair with roasted meats, pasta or risotto, pasta fagioli, or Italian cheeses, salumi, olives and more.

'Along with...Giancarlo Pacenti, Guiseppe Gorelli is the best of the younger producers of Montalcino, and an estate that has not missed a step since 1988.' Stephen Tanzer
'Le Potazzine Gorelli always delivers a delicate touch with its territory-inspired wines.' – Wine Advocate
Wine EnthusiastAromas of violet, underbrush and red woodland berry shape the nose. Medium bodied and linear, the vibrant palate offers pomegranate, sour cherry and star anise set against racy acidity and taut, polished tannins that provide support and finesse. Drink through 2028.