Chateau La Tour de Bessan Margaux 2015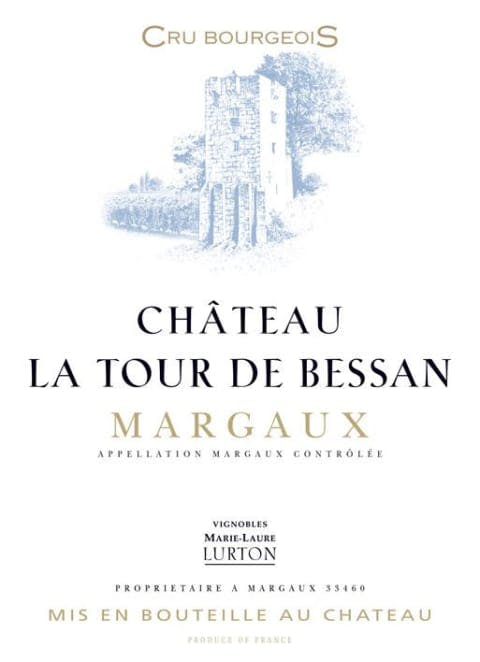 $34.99
Save $10.00 (28%)
$24.99
SKU 04522
750ml
The origin of this property can be found in a 13th century tower situated in Soussans, where you can still see the ruins of this old fortified site that was designed to protect the Lord Jehan Colomb. This edifice remained in the Colomb family until 1390 and then several illustrious local families followed suit; the Durforts and Garros families, then the Lords of Mons in 1488. Their last beneficiary, Thérèse, married the son of the great writer Montesquieu in 1740. The title of Lord of Soussans was kept by their descendants until the French Revolution.
It was in 1972 that Lucien Lurton bought the tower and vineyards from the Clauzel family. As the new owner he pulled out all the stops to rebuild this wine estate, all the while managing his other properties.
In 1992, his daughter, Marie-Laure took over. With a winemaking degree in hand and 6 years experience under her wing working on her father's other domains, she knew all the blocks that made up the domaine like the back of her hand.
The first investments she made were in the vineyard: heightening the trellising in order to increase the leaf canopy, replacing, ripping up and planting new vines.
In 1999, Emilie Roullé, an agronomist, became the vineyard manager. Her work showed results quickly: the 2003 vintage earned the Terra Vitis certification. This consolidates the viticultural choices made that respect the environment.
The classification of the 2003 Crus Bourgeois in June finally gave Château La Tour de Bessan the official status of Cru Bourgeois.
The investments also included the cellars: in 1999 we renovated a building dating back to 1934.
It now houses an ergonomic cellar, the barrel maturation cellar and a tasting room. This contemporary building tastefully designed by the architect Vincent Defos du Rau from Toulouse is evidence of the domain's dynamic spirit and its constant striving for higher quality.
Grape varieties: 43% Cabernet sauvignon, 55% Merlot, 2% Cabernet-Franc, and 1% Petit Verdot.
- 60 à 110 000 bottles of first label wine depending on the vintage
- 20 à 40 000 bottles of second label wine (Page de La Tour de Bessan)
Soils: deep quaternary gravel
Vine Density: 6.666 to 7.692 vines/ha
Average age of vines: 24 years
Rootstocks: 101-14, 3309, Riparia Gloire
Maturation: French oak barrels for the first label (10 to 14 months depending on the vintages), in tanks for the second label.
Eco friendly vineyard practices:
Certified "Terra Vitis" since 2003
James SucklingAn impressive wine that has a strong core of very succulent blackberry and raspberry fruits amid a smooth, velvety but strongly structured palate. Real clarity to the finish. Very pure. Try from 2021.
Wine AdvocateThe 2015 Chateau La Tour de Bessan has a straightforward, blackberry and bilberry scented bouquet that takes time to settle in the glass, but it does coalesce nicely and the oak is neatly integrated. The palate is medium-bodied with ripe tannin, plenty of blackberry and boysenberry notes infused with cedar and graphite, leading to a precise finish. 90-92