Colpetrone Sagrantino di Montefalco 2011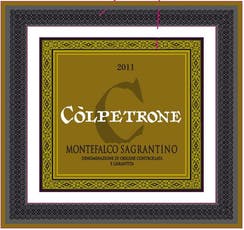 Còlpetrone became a member of the Tenute del Cerro group in 1995 and is situated in the center of Umbria, a stone's throw from Foligno, Trevi and Bastardo. After a short time it became one of the key estates in the area of Montefalco, due to its spectacular red wine, Sagrantino di Montefalco. The Sagrantino grape, the native variety of Montefalco, is one of Italy's oldest grapes, the most rich in tannins and polyphenols. As a result, a very careful cultivation process is required in order to enhance power and uniqueness of this wine, and in the meantime to ensure the right balance and elegance. Renowned enologist Riccardo Cottarella has produced the wines here in both a classic style along with more approachability due to smoother, more velvety tannins. It all starts with a very high quality farming system , with yields of 60 quintals per hectare, well below the 80 ones permitted by the regulations. Aged 12 months in 225 L French oak barrique followed by 26 months of bottle refinement.
The designation of a DOCG appellation for Sagrantino di Montefalco in 1992 solidified the standing of both the Sagrantino varietal and Còlpetrone. Today, the estate consists of 345 acres, 155 of which are vineyards. Còlpetrone produces 200,000 bottles annually, offering consumers Rosso di Montefalco, Sagrantino di Montefalco, Gold Sagrantino di Montefalco and Sagrantino di Montefalco Passito. The traditional cuisine of Umbria includes truffle-accented dishes, sheep's milk pecorino cheese, salumi and prosciutto, roasts, game and hearty lentil soups.
James SucklingSo much pressed lavender to the nose here as well as the classic brambleberries but also some hints of sour cherries, leather and Chinese spices. This is full and delicious with moath-coating tannins, driven acidity and a compact yet long finish. Better in 2020.