Chateau Monbousquet St Emilion 2016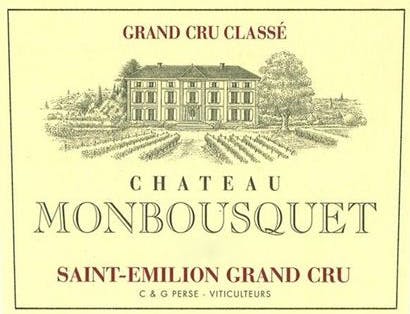 Chateau Monbousquet is a St. Emilion estate with a long history in the appellation that can trace its history back to 1540. At the time, Monbousquet belonged to François de Lescours, before it became the property of the well-established De Carles family., where it
remained for almost 150 years. The beautiful, classically styled chateau was built in 1648 by Jacques de Geres. The chateau is now the private home of Gerard and Chantal Perse and their family.
At the end of World War II, the Querre family purchased Chateau Monbousquet, and then i
n 1993, they sold it to Gerard Perse for $9,000,000. Chateau Monbousquet was the first vineyard purchase by Gerard Perse. Little did he, or we know, it was not going to be his last purchase.
Shortly after Gerard Perse obtained Chateau Monbousquet, he began renovating the estate. The entire 32 hectare vineyard of Monbousquet was analyzed and drained. This limited rises in the water table during prolonged wet spells in future vintages.
Next, they completely rebuilt the winemaking facilities and cellars.
In February, 2013, Gerard Perse sold a portion of Chateau Monbousquet to a large, anonymous, French, pension fund. The sale was motivated by French tax laws.
This allowed his daughter Angelique and her husband, Henrique Da Costa to eventually take over all the Perse owned wineries which include Chateau Pavie, Chateau Bellevue Mondotte and Chateau Pavie Decesse. as well as their estates in the Cotes de Castillon appellation.
The 32 hectare vineyard is planted to 60% Merlot, 30% Cabernet Franc and 10% Cabernet Sauvignon. This shows a change in the vineyards since it was first purchased by Gerard Perse, with more Cabernet Franc, and less Merlot in the vineyard.
The vines are planted to a density of 5,500 vines per hectare. The average age of the vines is 40 years. The terroir of sand, clay and gravel soils is not the best in St. Emilion.
The vineyard can be divided into three sections. For the red wines, you find more sand and clay in the north and more gravel with sand in the south. However, Gerard Perse gets the most out of their terroir. In part, intentionally striving for low yields is one method to increase concentration and improve quality.
To produce the wine of Chateau Monbousquet, vinification takes place in a combination of small, temperature controlled stainless steel vats and French oak tanks. Malolactic fermentation takes place in barrel.
The wine of Chateau Monbousquet is aged in 60% new, French oak barrels for an average of 20 months. Nearly 6,000 cases of Monbousquet are produced each vintage. There is a second wine, Angelique de Monbousquet.
James SucklingA soft and very silky Monbousquet with wonderfully caressing texture. Full body. Delicious crushed cherries and berries. Beautiful length, too. Hard not to drink now. Better after 2024.
Wine SpectatorLush, warm and exotic in profile, with a gush of blackberry, fig and boysenberry reduction notes coursing through, inlaid nicely with thin graphite and tobacco threads that provide structure. A Lapsang souchong tea depth swirls through the finish, gilding the long echo of showy fruit. Best from 2022 through 2035.
Jeb DunnuckAs to the red, I was blown away by the 2016 Château Monbousquet. This classic, elegant vintage plays fabulously well at this address. Beautiful blackcurrants, cassis, gravelly minerality, and chocolate all emerge from this full-bodied Saint-Emilion that has another level of purity and elegance over every other vintage I've tasted. It delivers loads of pleasure today and will do the same in 15 years as well. Bravo!
Wine AdvocateDeep purple-black, the 2016 Monbousquet charges out of the gate with rambunctious plum preserves, Black Forest cake and mocha scents with hints of redcurrant jelly, hoisin and cardamom. Full-bodied with a very compelling minerally restraint on the palate, it has a great intensity of red and black fruits with plush tannins and a lively lift to the finish.