Jean Fillioux Reserve Familiale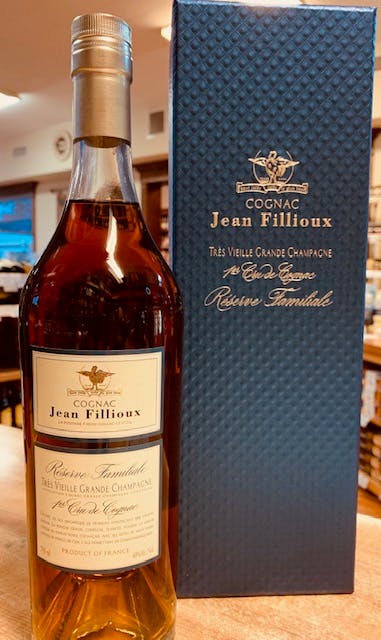 This is one of the greatest Cognacs available in the world made by a fifth generation Cognac estate from eaux-de-vie aged for 50+ years. The 'noblesse' of a cognac depends on its source and its age. The most prestigious source is the Grande Champagne 1er Cru of Cognac, and more precisely, the Golden Triangle. This is where the famed Domaine de La Pouyade is located, in Juillac Le Coq, and where the dynasty of Jean Fillioux has had its roots since 1880, when Honore Fillioux founded the firm.
Each year in October, 5th generation owner Christophe Fillioux harvests the Ugni Blanc grapes from his 63 acre vineyard, makes the wine and distills it in his classic alembic stills. After carefully selecting barrels from the cooperage, the young distillate is put to rest for 2 years, absorbing maximum tannins and color. Then comes the 'secret': day after day, month after month, year after year, Christophe Fillioux, and his father Pascal, can be found in their cellars sniffing, breathing, tasting, making notes, re-tasting, blending, moving barrels, and listening to his cognacs growing older and older. It's like a ballet in wood and darkness where only he can hear the music. The results are just sublime, undeniable proof that Pascal Fillioux well deserves his reputation as 'Magician of Aromas' that the region has given him.
We visited this traditional, family-owned and managed Cognac house with our dad years ago, and stayed with Pascal and his wife in the family home. Jean Fillioux is one of the last family owned and managed houses in the region, dedicated to producing a high quality, consistently authentic range of Cognacs from century-old traditions. This 'higher than XO' Cognac is best in class from the region.
VinousOne of the benchmark expressions of Cognac, a blend of 50- to 55-year-old eaux-de-vie. This has everything. On the nose, it's earthy and autumnal, offering fresh apple peel and dried leaves, yet also incredibly bright. On the palate, it's unbelievably complex and exhibits all levels of rancio. One moment there's a gush of fleshy tropical and citrus fruit, the next antique furniture varnish, then an exotic bazaar of spices. Meanwhile, throughout there's an underlying note of evergreen forest. The profound finish stays with you for what feels like hours. (40% abv)