Francis Ford Coppola Diamond Series Black Label Claret 2016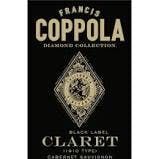 Unavailable
We're sorry, but this product is not currently available.
This is the prize offering of the Francis Coppola Diamond Collection, an ultra premium Claret, sporting a label that honors the first Cabernet Sauvignon blended in a Bordeaux style by Gustave Niebaum in 1910. Claret is a term originally coined by the British to describe Cabernet-based wines from the Bordeaux region in France. The 2016 Claret is a blend of Cabernet Sauvignon, Petit Verdot, Malbec and Cabernet Franc. Alluring and sophisticated in style, it is smooth and lush with a tapestry of succulent flavors such as wild berries, plum and anise. Borrowing tradition of European wineries, the winery adds gold netting to the bottle to signify outstanding quality of wine.
Wine EnthusiastSuperripe flavors of black cherry juice and blackberry jam give this full-bodied wine richness and depth. It is concentrated and deep, showing dark chocolate and blueberry flavors, with light spicy, oaky accents of vanilla, cedar and mocha.
Wine SpectatorThe fruit casts a candied edge, remaining trim and modestly proportioned. Ends gritty. Drink now through 2024. 144,021 cases made.