Château Ducru Beaucaillou Saint-Julien 2014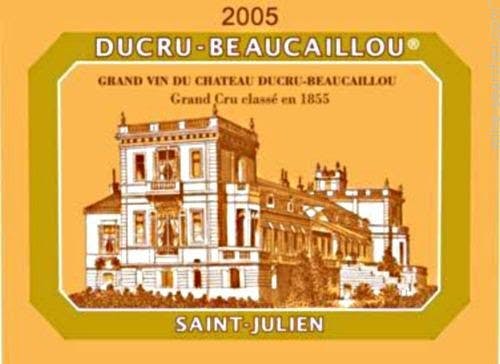 $199.00
Save $49.01 (24%)
$149.99
SKU 01952
750ml
Ducru Beaucaillou is one of the oldest Bordeaux wine producing estates in the Medoc dating back to the befginning of the 13th century. As a working Bordeaux vineyard in Saint Julien, the Bergeron family was in charge the chateau from 1720. Bertrand Ducru purchased the estate in 1795. He added his name to the winery which quickly earned fame under the name of Chateau Ducru Beaucaillou. Ducru Beaucaillou also hired the well known Parisian architect, Paul Abadie to create a special chateau on the property.
Following more than seven decades at the helm of Ducru Beaucaillou, they sold the Saint Julien property to Lucie Caroline Dassier in 1866 for one million Francs, a record breaking cost for a wine estate at the time. Dassier was the wife of the famous Bordeaux wine merchant, negociant Nathaniel Johnston.
Nathaniel Johnston knew what was needed at Ducru Beaucaillou. Johnston replanted the vineyards, modernized the cellars and performed numerous experiments on grape varietals and vine diseases.
Loses suffered from the 1929 depression forced the Johnston family to sell Chateau Ducru Beaucaillou to the Desbarats family. The Desbarats family, who were successful Bordeaux wine merchants sold the estate to Francis Borie in 1941.
The Borie family by this time had extensive roots in the Bordeaux region. They moved to Bordeaux in the late 1800's and started out as negociants. Today, the Borie family also own Chateau Grand Lacoste and Chateau Haut Batailley in Pauillac as well as other vineyards in the region.
In 1953, Jean Eugene Borie took over the property, following in the footsteps of his father, Francois Borie. In 1978, Francois Xavier Borie began working at the estate full time, eventually taking over from his father after his passing in 1998. That continued until 2003 when his son Bruno Borie took over. He has become one of the most respected people in all of Bordeaux and taken Ducru-Beaucaillou to even higher heights.
Wine EnthusiastBarrel Sample. This wine showcases the balanced combination of power and elegance that's commonly associated with the property. It also has fresh acidity, complex tannins and a dense, dark structure full of black currant fruitiness. It is certain to age over the long term.
Wine AdvocateThe 2014 Ducru Beaucaillou showed extremely well when I tasted it with Bruno Borie during en primeur. Now in bottle, it delivers on that promise with beautifully defined blackberry and raspberry fruit infused with cedar and pencil box aromas. Quintessentially Saint Julien. The palate is very well defined with fine tannin, pitch-perfect acidity, a palpable sense of energy and frisson from start to finish that delivers plenty of tobacco-infused fruit. It is not the perfection-flirting legend that I have read elsewhere; it is just a damn good Saint Julien that is going to drink beautifully over the next 25 to 30 years.
Wine Spectator This is opulent, with layers of warmed fig, boysenberry and blackberry confiture that loll along, yet are kept going by a graphite note that is well-buried throughout. Alluring black tea, singed mesquite and bittersweet cocoa accents add to the panache. A head-turner. Best from 2020 through 2040.