Etienne Sauzet Beaune Premier Cru Les Pertuisots 2017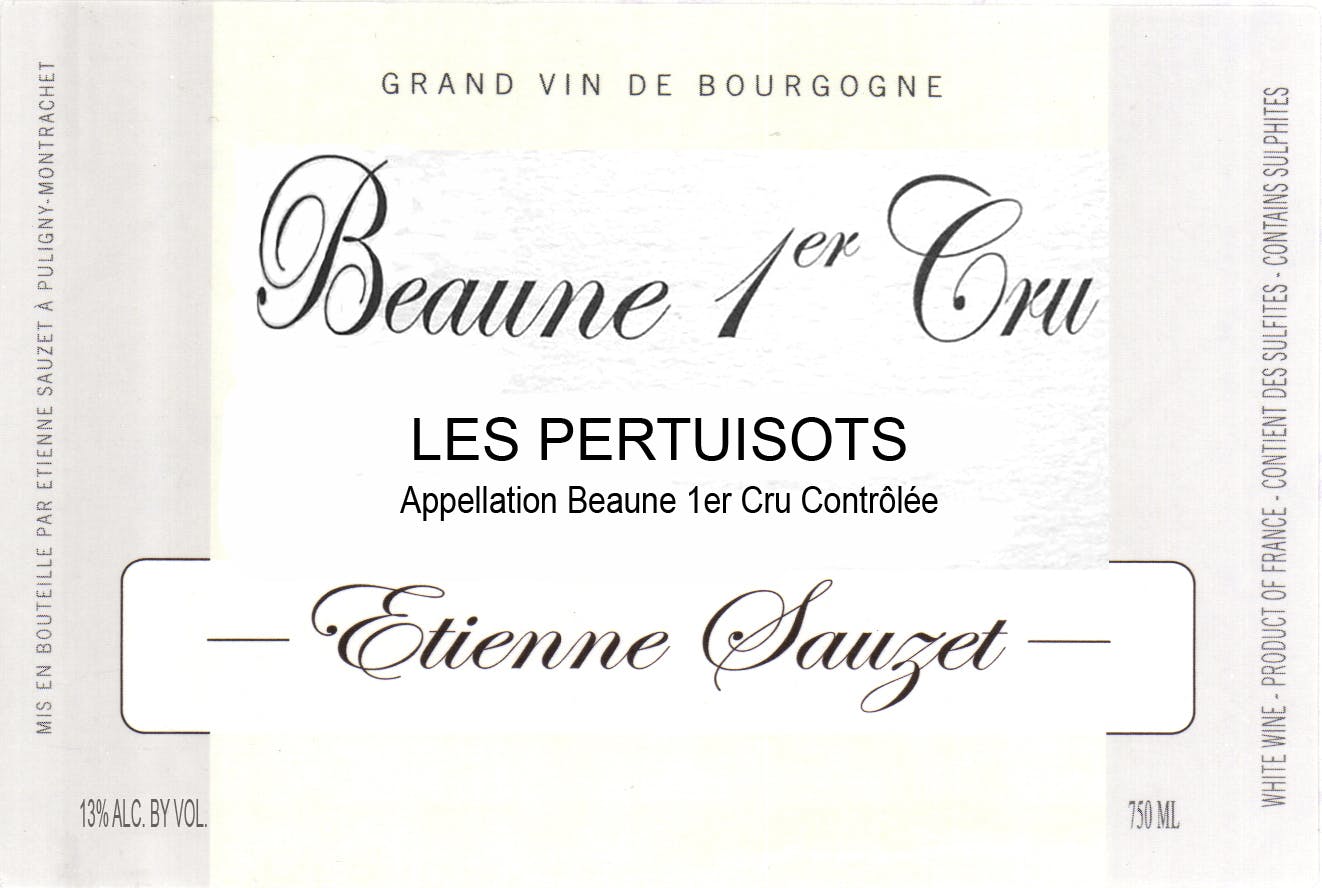 As reported by Wine Advocate : 'The 2017 vintage is a great success for Domaine Etienne Sauzet. At this address, the year is rendered in a comparatively rich, textural style, delivering wines with weight and structure—complemented by plenty of balancing acidity. Deft élevage in barrel lends these white Burgundies an elegant patina without excess, confirming that Benoît Riffault—who took the helm chez Sauzet in 2002—is today at the peak of his powers. Sauzet's lower appellations are already quite accessible, but the wines become more introverted and reserved as one ascends the hierarchy.'
The domaine of Etienne Sauzet is made up of 26 acres, much of it in the heart of the finest premier cru vineyards of Puligny-Montrachet. The average age of the vines is 30-35 years. Gérard Boudot, owner and winemaker of Domaine Sauzet, is seeking maximum finesse and an individual expression of the terroir in his wines. Boudot, who married the granddaughter of the late Etienne Sauzet, runs the domaine and has modernized and improved the vinification, making Sauzet wines among the most sought-after white wines of Burgundy. The estate has been bottling 100% of its production since the early 1950's. Since 1975, the domaine has been selling the entirety of its production in bottle. The white wines of Puligny-Montrachet are some of the most famous and most widely acclaimed in the world. This is undoubtedly due to the local microclimates and the clay, siliceous sand and lime contents of the soil. Champ Canet is one of 14 premier cru vineyards in Puligny-proper. This one is produced from a full 1 ha parcel of 40+ year old vines as well as some vines planted in 1938; aged in approximately 1/3 new oak with a slightly longer élevage than his other wines.
In our research of this wine, it was not easy to find information about the vineyard itself, although having never seen it ourselves in any other bottling, we can confirm with confidence that it is a very rare wine, and even more rare in that it is a white, versus a red. It is much more common to encounter red Beaunes. Anyway, we did find out that the name of this lieu-dit, Pertuisots, comes from the old French and Provençal word "Pertuis" meaning "sloping ledge." It is located below the lieu-dit les Aigrots, between les Vignes Franches and les Sizies, and has clay-limestone soils, with Bathonian and terminal Callovian bedrock.
Wine SpectatorA lean, racy style, this delivers lemon tart, apple and chalky, minerally notes. Mouthwatering and long on the finish. Drink now through 2024. 70 cases made, 70 cases imported.
Wine AdvocateThe 2017 Beaune 1er Cru Les Pertuisots offers up a pretty nose of crisp green orchard fruit, citrus zest, blanched almonds and fresh peach. On the palate, it's medium to full-bodied, elegantly textural and incisive, with good depth at the core, racy acids and a delicately chalky finish. This is a classy, beautifully balanced Pertuisots that isn't as rich and sun-kissed as some of Sauzet's more dramatic cuvées this year.