Casanova di Neri Brunello di Montalcino Tenuta Nuova 2015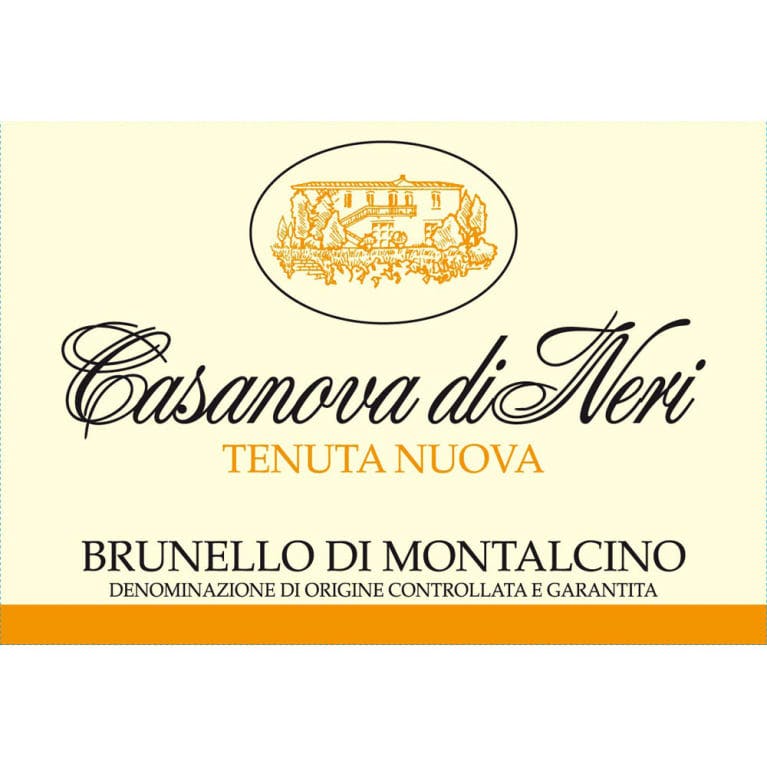 $199.00
Save $49.01 (24%)
$149.99
SKU 04464
750ml Bottle
Founded in 1971 by Giovanni Neri who with his great vision and passion understood the huge potential of wine in the Montalcino territory, it was passed on to his son Giacomo in 1991. First came the Cerretalto vineyard, a unique terroir in a natural amphitheatre over the Asso river in which the old vines produced a Sangiovese different from the others, with small bunches, from which a selective variety was grown that was used in out other vineyards particularly in Tenuta Nuova. The acquisition of Cerretalto was followed by that of Le Cetine, Pietradonice and then Podernovo. All this by researching the best soil and exposures so as to produce unique and recognizable wines.
The first Brunello harvest was 1978. This was followed by Cerretalto 1981, Rosso di Montalcino 1982, Tenuta Nuova 1993, Pietradonice 2000, IrRosso di Casanova di Neri and the last one Ibbianco 2011. Currently the estate covers a surface of around 500 hectares of which 63 are vineyards, 20 olive groves and the rest arable land and forest.
Casanova di Neri winery is mostly underground, facing north and with a natural room temperature without having to resort to air conditioning. It was planned following a rational design that supports the winery's production principles of low impact and natural processes. The structure is on three levels so as to take advantage of gravity and was built according to the needs of Casanova di Neri and of their vision of the productive process, intent on respecting the quality of the grapes and on enhancing the characteristics of the different grapes and above all of the different vineyards that they come from. Before the vinification the grapes are sorted on a selection belt after which they are de-stemmed and passed on to a further selection belt where they choose the best grapes that fall by gravity into the vats.
The fermentation takes places in open conical stainless steel vats with controlled temperature and no pumps, which allows to have a maximum regard for the quality of the grapes and enables the extraction of only the best tannins, preserving the color and fragrance. This is followed by the aging in two barrel rooms on two different levels again using gravity to their advantage. After bottling, the wines are kept in the aging area in bottles until their shipment time. The richness and diversity of their vineyards is enhanced by the attentive care that is taken in the winery that crowns all the work that has gone into producing Casanova di Neri wines.
Wine AdvocateGiacomo Neri and his family have crafted a wine that impresses from the first sip forward (especially when the wine is given ample time to open). The Casanova di Neri 2015 Brunello di Montalcino Tenuta Nuova must be treated with patience, and that patience is returned with many great rewards. Blackberry, plum and summer cherry are slowly folded into lasting flavors of spice, leather and beautiful balsam or medical herb. These are always a distinctive signature of this estate. The aromas flow with seamless transitions, and that fluid and ever-changing nature of the bouquet is what helps to build intensity and staying power. Fruit is harvested from a south- and southeast-facing slope at 250 to 300 meters above sea level. The soils are mixed loosely with crushed rock, allowing access to air and moisture. Indeed, pretty mineral accents appear as the wine takes on more air in the glass. What stands out most in this Brunello is the quality of the bouquet that is rigid and firm, yet not excessively so. You feel the structural texture of the wine as it sits firmly over the palate, yet there is mobility and softness to its many moving parts. I tasted this wine at various intervals over a 24-hour period. Tenuta Nuova was bottled in June 2018, and some 70,032 bottles were released.
Jeb DunnuckOn another level, the flagship 2015 Brunello di Montalcino Tenuta Nuova shows the warm, sexy style of this vintage beautifully, boasting a translucent ruby/purple color as well as incredible aromatics of ripe cherries, dried rose petals, new leather, spice, and dried herbs. Beautifully complex aromatically, it hits the palate with full-bodied richness as well as a weightless, elegant texture that carries sweet tannins.
VinousThe 2015 Brunello di Montalcino Tenuta Nuova was quite restrained at first, requiring time in the glass to fully blossom, as subtle red berry fruits slowly gain volume and are then complemented by sweet red florals with hints of exotic spice, peppery herbs, and dusty minerals. On the palate, silky textures flood the senses with rich red berry fruits and sweet herbal tones, leaving hints of savory spice and minerals in their wake. The finish is long and unexpectedly fresh, showing the first hints of round tannins under a top note of sweet cherry, plum and a hint of black tea. There is so much going on here, yet it is all densely wrapped up in its youthful state.
Wine SpectatorRich, boasting ripe cherry, plum, incense and wild herb aromas and flavors, this red is expressive and charming. All that up-front appeal is matched by dense yet civilized tannins. Fine balance and a lingering aftertaste of fruit, mineral and savory elements bode well for the future. Best from 2022 through 2040. 5,836 cases made, 1,250 cases imported.