Ciacci Piccolomini d'Aragona Brunello di Montalcino Riserva Vigna di Pianrosso Santa Caterina d'Oro 2012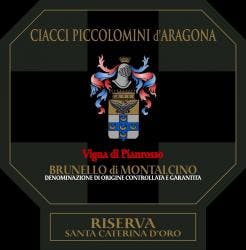 $399.00
Save $100.00 (25%)
$299.00
SKU 04458
1.5L Bottle
Ciacci Piccolmini is one of the most sought-after producers in Montalcino. This ancient estate has 35 hectares of superior holdings in the prized Castelnuovo dell'Abate zone, including the 'Pianrosso' vineyard (from which the best grapes are selected for the Brunello di Montalcino) and the 'Fonte' vineyard.
'Brother-and-sister team Paolo and Lucia Bianchini continue to make excellent Brunellos in the tradition of their father, Giuseppe, who died in 2004. They are employing their new modern cellars, and continue to maintain their south-facing vineyards at near pristine levels. The Brunellos emphasize finesse and balance, with layers of ultrafine tannins and subtle ripe fruit, yet they age incredibly well. The Bianchini family was gifted its Brunello estate in 1985 by Countess Elda Ciacci Piccolomini d'Aragona, who had no heirs; Giuseppe had been the estate manager.' — Wine Spectator
Wine Enthusiast"This gorgeous wine opens with alluring aromas of sweet pipe tobacco, underbrush, new leather, truffle, plum and eucalyptus. Smooth and full-bodied yet elegant, the savory, juicy palate delivers crushed Marasca cherry, raspberry preserve, licorice and menthol alongside polished, enveloping tannins. Fresh acidity provides impeccable balance while an orange zest note lifts the finish. Drink 2023–2032.
Wine AdvocateCiacci Piccolomini d'Aragona is one of the headline estates of Montalcino and the Pianrosso single vineyard is known for its consistency and the steady grace of its performance. The 2012 Brunello di Montalcino Vigna di Pianrosso does not quite reach the heights of the outstanding 2010 vintage. This release comes near in terms of power and purity, although it bears some of the weight of the hot vintage. The darkness of fruit is more pronounced and the tannins are a bit softer. Make no mistake, the thick soils of the Pianrosso site have helped to achieve impressive balance. The long finish offers tobacco, balsam herb and dried fruit.
Wine SpectatorThis red balances juicy cherry and plum fruit, tobacco and leather accents, and firm yet pliable tannins. As a result, this is vibrant and long, with earth and iron elements emerging on the aftertaste. Best from 2020 through 2033. 1,667 cases made.
VinousGood full red. Captivating nose combines dark red berries, sweet spices, botanical herbs and licorice. Sweet and sappy but still youthfully closed, his conveys a more powerful mouthfilling saline impression of extract than the Brunello classico. Finishes suave and rich, but with a strong underlying acid-tannin spine providing support.