Domaine de la Rosiere Rosé de Savoie 2017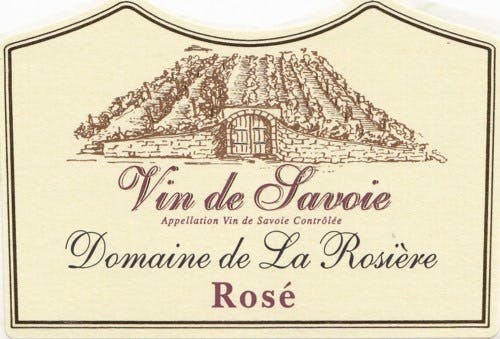 The Domaine de la Rosière Rosé is made from 100% Gamay fruit dedicated for Rosé production of about 1000 cases. The vines grow on south-west facing, limestone-clay slopes. The grapes are hand-picked 10 days before the harvest for the estate's Gamay red wine and then quickly and lightly pressed. The juice is cleared of its gross lees and fermentation begins at controlled, low temperature for 30 days. The fully dry young wine is aged on its fine lees for 2 months and bottled in late December. Striking freshness, purity and lift with a pale, strawberry color and white stone, flowers and wild red-berry fruit.
Dating back to the late 19th century, Domaine de la Rosière is located in the village of Jongieux, in Massif de la Charvaz mountains at the beginning of the French Alps. It is situated about 40 miles southwest of Geneva, in between the Rhône River (near its start) and Lake Bourget, France's largest lake. The estate was expanded to its present size in the 1970s and 80s. Eric Carrel and his father François, now retired, cultivate 13.5 hectares of vines in the Jongieux and Marestel appellations. 100% of the production is estate-bottled. Farming practices: sustainable. All of the vineyards have grass planted between the rows to reduce yields and create a healthy natural ambiance, and only organic fertilizer is used.