Domaine de la Rosiere Jongieux Blanc 2019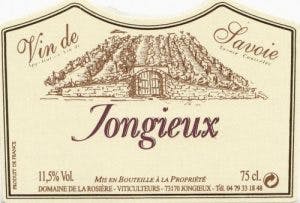 Domaine de la Rosière Jongieux Blanc is made entirely from the native Jacquère grape. It exemplifies Hugh Johnson's characterization of this varietal: 'you are drinking bottled mountain air.' The vineyards are south-west facing slopes with decomposed limestone soils. The vines average 25 years of age. The grapes are hand-harvested at the end of harvest period. Working with fully ripe, yet delicate grapes with a low natural sugar/alcohol level, Carrel uses a pneumatic press to extract flavor and aromas, and ferments in stainless steel tanks at low temperatures. He blocks the malolactic fermentation and keeps a small amount of the wine's natural CO2 to further enhance its freshness and vitality. Bottling takes place in January, after the wine is stabilized in the naturally cold Alpine ambiance. It offers unique flavors of citrus, white flowers, minerals with elegant length. Around 1000 cases produced annually. 11.5% alcohol.
Dating back to the late 19th century, Domaine de la Rosière is located in the village of Jongieux, in Massif de la Charvaz mountains at the beginning of the French Alps. It is situated about 40 miles southwest of Geneva, in between the Rhône River (near its start) and Lake Bourget, France's largest lake. The estate was expanded to its present size in the 1970s and 80s. Eric Carrel and his father François, now retired, cultivate 13.5 hectares of vines in the Jongieux and Marestel appellations. 100% of the production is estate-bottled. Farming practices: sustainable. All of the vineyards have grass planted between the rows to reduce yields and create a healthy natural ambiance, and only organic fertilizer is used.