Scala Cirò Rosato 2018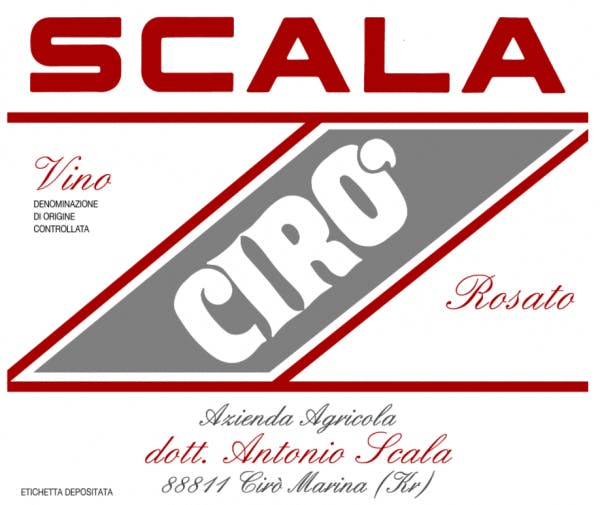 New favorite Rosé alert! This Italian Rosato is made of 100% Gaglioppo from estate vineyards located in Cirò (Crotone district) of Calabria, with a south/south-east exposure – sand and clay soil. It had such an abundant amount of ripe red berries, flowers, salinity, herbs and happy personality.. we just loved it! The vines were planted in 1987 and 1997 and are trained in espalier. The grapes are hand-picked during the first half of October. After removing the stalks, the grapes ferment for about 24 hours, then about 60% of the must is drawn off and fermentation continues for the rest in temperature-controlled containers set between 14° and 16° C. At the end of the alcoholic fermentation, the wine is racked and left in stainless steel tanks for at least 3 months. After bottling, the wine rests another month before release. Copper color, elegant and bright with fresh fruit and red flower notes.
In the Scala family since 1949, the domaine is now run by Luigi Scala, who leads the production of Cirò wines following family traditions. From the growing of the grapes to the refinement and aging of the wines, he favors quality over quantity and aims to produce a distinguished Calabrian wine. The winery is truly a family business as Francisco Scala oversees the business side of the winery.
Calabria is the region which looks like the 'toe' of the boot. East and north of Sicily, and surrounding by sea almost completely, which influences its climate as well as its mountainous terrain. Interestingly, Calabria has one of the oldest records of human presence in Italy, which date back to around 700,000 BC. Scala's vineyard is comprised of 18 hectares for an overall production of 100,000 bottles. Most of the grapes are native varieties such as Greco, Gaglioppo, Magliocco, Nerello and Mantonico. They are cultivated in espalier on the hinterland plains and hills, on argillaceous and sandy soil. For farming, Scala exclusively uses organic products, such as lupins to fertilize the vineyards; it provides the soil with nitrogen and helps eliminate weeds. Luigi's grandfather used indigenous yeasts, but the current winemaker chooses to inoculate. They are now certified organic, starting with the 2016 vintage.