Le Potazzine Brunello di Montalcino 2015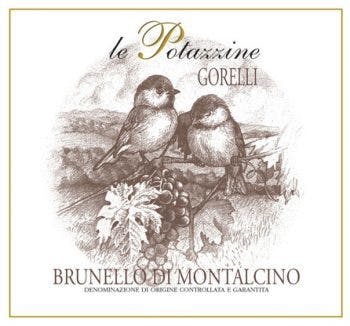 $89.99
Save $10.00 (11%)
$79.99
SKU 04411
750ml Bottle
We visited this wonderful family estate during the 2009 harvest and had the honor to taste wines with Guiseppe Gorelli from both bottle and barrel. He is a very thoughtful, quality-driven winemaker who balances tradition with modern know-how and captures the true essence of Montalcino. The wines are made in very small quantities in a traditional style. Brunello di Montalcino is wonderful to pair with roasted meats, pasta or risotto with truffles or Italian cheeses, salumi and olives.
Owned by Guiseppe and Gigliola Gorelli, this tiny estate was named after a local bird, the Potazzine, also the nickname for the couple's two daughters, due to their constant 'chirping' to each other from the time they were babies. The Gorelli's first vintage under the Potazzine label was 1997, but Guiseppe comes from a long line of Brunello di Montalcino producers. Today he owns vineyards in both the north and the south, since he believes each area imparts different positive qualities such as richness, balance, aromas, acidity, terroir components and structure. He is dedicated to healthy vineyards, old vines and low yields. Also dedicated to natural winemaking, Guiseppe only uses wild yeasts in the winery, and the wines go through a long, natural fermentation of about 30 days. Many years ago, Guiseppe made the big decision to stop using any small oak barriques for aging, as he felt the wood component was too strong for the supple, balanced style he was seeking. Today, he uses 100% Slovenian oak in 10 hectolitre and 30 hectolitre sizes.
'Along with...Giancarlo Pacenti, Guiseppe Gorelli is the best of the younger producers of Montalcino, and an estate that has not missed a step since 1988.' Stephen Tanzer
VinousLe Potazzine 's 2015 Brunello di Montalcino is fabulous. The bouquet is showing an earthy display, with smoky minerals and dark soil tones up front, evolving with time in the glass, as crushed black cherry mixes with wild, savory herbs and dried dusty florals. On the palate, gorgeously ripe red fruits are balanced by a mix of saline-minerals, savory spice and zesty acidity, as fine tannin slowly mounts beneath its pretty inner floral tones. The finish is long with a salty-savory twang of minerals and spice, as hints of hard red candies and a bit of citrus lingers over a core of tannic heft. There is so much to like about the 2015, from its classic and earthy bouquet to its fleshy yet balanced palate and totally classic finish. Simply stunning and so pleasurable.
Wine AdvocateThe Le Potazzine 2015 Brunello di Montalcino is immediately bright and energized. The wine is sprightly and lively. This is an elegantly medium-weight wine, but everything is in exactly the right place. Fresh acidity and snappy fruit flavors are followed by lighter touches of rose petal, cardamon, camphor ash and powdered licorice. These aromas are stacked tall and proud. Of special interest is that point of zesty medicinal herb that reminds you of the relatively cool climate and high-altitude positioning of Le Potazzine's vineyards. These special conditions are exactly why this wine performs so nicely in a warm vintage like 2015. The coolness of the growing site offsets the temperatures of the growing season. Some 18,000 bottles will be released in February 2020.