Forge Cellars Classique Riesling 2018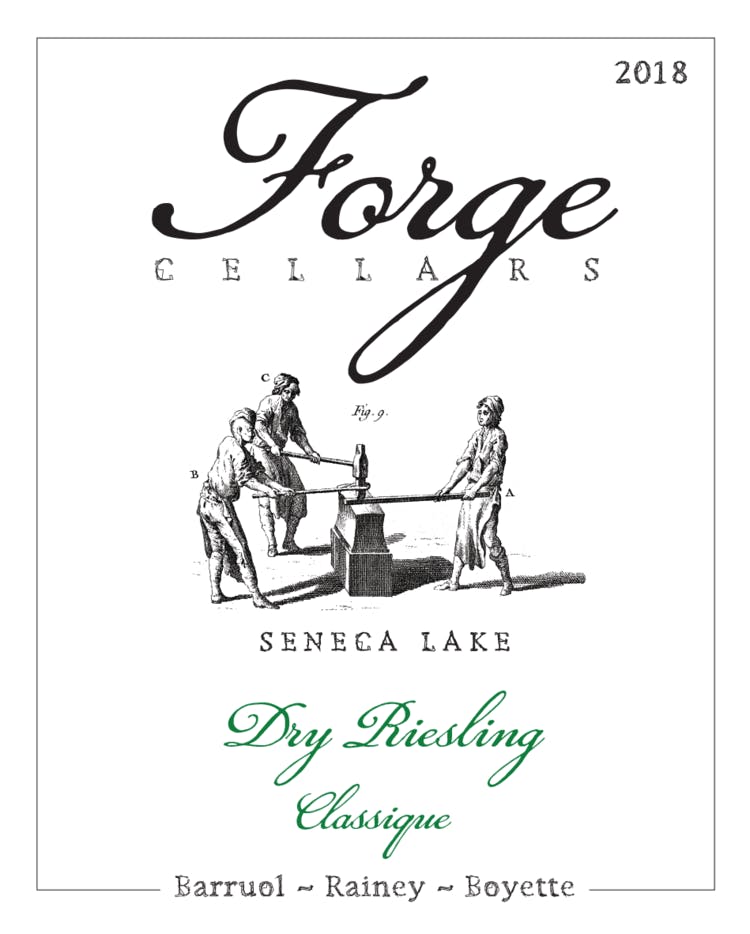 Forge Cellars is a small, artisanal producer focusing entirely on Dry Riesling and Pinot Noir in the Finger Lakes. Made up of three partners —French Winemaker-Grower, Louis Barruol of Château de Saint Cosme in Gigondas and American partners Richard Rainey, and Justin Boyette, their goal is for the wines to reflect the place that they come from, because this is where the pleasure is. When you smell a wine, you should to be transported to its origins and see the landscape. It should relate to good memories, and provide a strong feeling of identity.
Their choices in the cellar guard the purity of the Forge vineyards. Simply put, they make wine in the traditional, handcrafted manner : harvesting by hand, sorting by hand, loading the grapes into the press by hand. They shovel the vats out by hand, they employ spontaneous fermentation and ferment in very tiny lots, so that they can truly understand the expression of the vineyard each year. They use very low levels of sulphur, fermenting Rieslings bone dry, and do not fine or filter the red wines.
Forge Classique Riesling is the winery's most important wine
reflecting the substance and diversity of southeast Seneca Lake. It fermented in both vats and old oak (228 liter Burgundy barrels and demi-muids) with indigenous yeasts for several months, as is typical of our wines. Combining aromas of mineral and fruit: mango, jasmine, flint, it delivers a balanced texture, straightforward while being both long and soft.
American viticulture has the ability to deliver fantastic mineral-driven, complex, refined, long-aging, and refreshing white wines that remind of great Burgundy or Sancerre. This is Riesling, this is southeast Seneca Lake, this is Forge.