Uccelliera Brunello di Montalcino 2015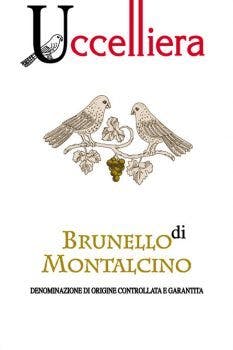 'Proprietor Andrea Cortonesi fashions big, full-bodied wines from his vineyards in the southern part of the Montalcino zone. He represents the finest of the artisan approach to making wines in Montalcino.' -- The Wine Advocate
We had the amazing opportunity to visit the Uccelliera estate during the 2009 harvest, and literally watched Andrea and his team bringing in and sorting handpicked grapes on the back of a pick-up truck. Located in the Montalcino zone, his vineyard was part of the Ciacci Piccolomini estate until 1986 when Andrea purchased the land. He renovated an existing building, as well as built, with his own hands, another building on the estate, from rocks and stones he sourced from part of the land that he would ultimately make into a vineyard parcel. He is a big, larger-than-life man, with a passion for winemaking and a true lust for life. His full-bodied Rosso has a limited production, featuring a powerful nose, and lush, concentrated fruit; his Brunello has a cult following and big scores to match. It features gorgeous aromas of exotic spices and dark red fruits with a lush expansive palate, super concentration and a caressing, velvety texture.
Wine AdvocateAndrea Cortonesi of Uccelliera shows real talent when it comes to highlighting vintage variation in his wines. His 2015 Brunello di Montalcino captures the exuberance and the ebullience of this sunny and warm growing season. However, the wine remains orderly, precise and very elegant nonetheless, with a pretty succession of aromas that play cautiously forward, building in intensity along the way. Dried currant and cherry cede to moist earth, rose petal and balsam herb. The wine's medium-weight body is supported by fresh acidity and well-managed tannins (with 36 months of oak aging). All of these moving pieces work in harmony. This Brunello was bottled in July 2019 and released in January 2020. Some 27,866 bottles were released.
VinousThe 2015 Brunello di Montalcino opens with an alluring bouquet that showcases dark red fruits, sweet florals, dusty earth and a hint of animal musk. On the palate, I find a soft, enveloping expression, displaying ripe red and black fruits, which seem to hover on the senses, as a mix of spices, saline-minerals and zesty acids saturate the senses. The finish is long, spicy, yet also wonderfully fresh, with hints of fine tannin gently tugging at the senses. The 2015 Uccelliera Brunello is already so easy to like, making good use of the sunny nature of the vintage, yet with all the raw ingredients for medium-term cellaring. Tasted twice with consistent results.