Luca Malbec 2015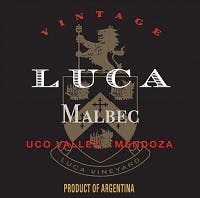 Laura Catena, daughter of Argentine wine pioneer Nicolás Catena, is fulfilling her vision of creating a new breed of Argentine wines: small quantities, artisan quality, and true to their individual terroirs. She starts with some of Argentina's best fruit from low-yield, high elevation vineyards. State-of-the-art winemaking and oak aging (primarily French) elevate the wines to a quality level demanded by true wine connoisseurs. The final varietal blends deliver power along with complexity and finesse. They are the ultimate expression of rigorous vineyard management, viticultural experimentation, strict irrigation controls, skilled winemaking, and a quest for quality at any cost.
Luca is named after Laura Catena's son. The family crest (the McDermott family) that appears in the label's background is that of Laura's husband, Dan. Laura is continually inspired by the synthesis of cultures in her own family, and this international inspiration infuses the style and quality of her wines. Luca is made from Malbec vineyards located in the Uco Valley: Altamira, La Consulta and Gualtallary. The s
oils is these premium high-elevation vineyards are very poor with l
imestone in Altamira and La Consulta.
All the vines are ungrafted and average 44 years in age. All work is done by hand including the harvest.
VinousSaturated bright ruby. Lively aromas of blackberry, licorice pastille and violet. Richer, deeper and weightier than the Malbec Paraje Altamira, offering smooth flavors of blackberry, blueberry, violet and dark chocolate. Finishes compellingly sweet, with supple tannins and lingering black fruits and chocolate--and without any loss of focus or energy. Great Malbec for the price--or any price!
James SucklingThis is a really happening malbec with salt, white pepper and dark fruits. Full body, solid core of fruit and a long and intense finish.
Wine EnthusiastDespite humid conditions in Mendoza in 2015, this old vins Malbec shows a fine combination of blackberry, smoke and mocha aromas. It's in tip-top shape on the palate, although the acidity is a bit wiry. Oaky flavors of vanilla and mocha work well with its black cherry and blackberry fruit, which is unwavering on the finish. Drink through 2022.
Wine AdvocateThe 2015 Malbec is an assemblage of old vines from different parts of the Valle de Uco, Gualtallary and La Consulta. There is a slightly blurriness in the nose here, not as focused as previous vintages, a little musky and with hints of decayed flowers. The palate feels better, with good freshness and tasty flavors. 156,000 bottles were produced.