Domaine du Clos de Tart Grand Cru Monopole 2015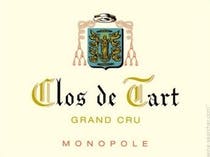 $699.00
Save $74.00 (10%)
$625.00
SKU 04376
750ml Bottle
Clos de Tart, the famous Grand Cru monopole vineyard in Morey Saint Denis, was created in 1141 by a group of nuns, les Bernadines de Tart, a branch of the nearby Cistercian congregation. The sisters maintained the vineyard for 650 years, until 1790, when the revolutionary French government confiscated the lands owned by the Catholic church and sold it at auction in 1791 to Joseph Marey. In 1932, the Marey family sold Clos de Tart to Henri Mommessin, a négociant from Mâcon. And finally, in 2017, French billionaire François Pinault, the owner of Bordeaux's Château Latour and several other notable wine properties, purchased Clos de Tart from Burgundy's Mommessin family. Pinault is just the fourth owner in the estate's 900-year history.
Clos de Tart the largest grand cru monopole in Burgundy, with an 18.5-acre parcel in the Côte de Nuits. A low, stone wall encircles the land, creating a clos. In 1939, the clos became a monopole with its own AOC. The estate has been certified organic since 2015 and has an annual production of around 2,500 cases. It currently produces two labels, Clos de Tart Grand Cru Monopole and La Forge de Tart Premier Cru, under current director Jacques Devauges. The Clos de Tart is made from vines that average around 60+ years of age; yields of 22 hl/ha in 2015.
Wine AdvocateThe 2015 Clos de Tart Grand Cru was tasted both as separate cuvées from individual parcels around the vineyard (always a stimulating and insightful exercise) and of course, as the final blend, assembled in the same proportion as eventually bottled. It has a classic bouquet, a mixture of red and black fruit, hints of dried rose petals in a vase and a distant sea-spray scent that becomes more accentuated with time in the glass. There is a sense of restraint here, keeping lock and key on the precocity of the growing season. The palate is very well balanced with a superb line of razor-sharp acidity, palpable "coolness" imparted by the assiduous early picking. It is equipped with fine tannin, imbued with natural poise and gathers more black fruit towards the finish that offers a subtle slate-like note. It is one of the best I have tasted from this ancient vineyard, so assured and regal, destined to last more than 30 years with ease.
BurghoundModerate wood frames very ripe liqueur-like aromas of plum, cassis, floral and ample spice and earth nuances. There is excellent richness to the opulent yet relatively refined big-bodied flavors that exhibit a subtle minerality on the powerful, mouth coating and driving finish that possesses outstanding complexity and persistence. There is a hint of warmth but overall this is quite well-balanced and the length is remarkable. My sense is that while this will age effortlessly for decades, it should not be particularly difficult young.