Yonetsuru Long Life Junmai Daiginjo Sake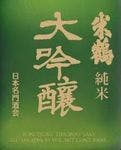 Yonetsuru Sake Brewery was founded in 1697 in Takahata, a town in the southern part of Yamagata Prefecture, northeast of Yonezawa City. The team is composed of local workers with a high level of skills. They take a special interest in rice and introduced a Junmai and Junmai Daiginjo made with "Kissui", a new strain developed by the Takahata Sake Rice Group - an organization created in 1983 that comprises local farmers and brewery workers.
Junmai Daiginjo is the "A-list" category in the sake world – the best of the best – and a brewery's best offering. Each grain of rice must be milled to at least 50% removal and 50% remaining, and some go as far as 23% "seimaibuai" or 77% removal of each grain of rice. Light, sometimes more fruity and more fragrant, this category is best for gift giving and light food pairings. 'Long Life' Junmai Daiginjo has round, fruity aromas of banana and pear with a SMV: +2 and 1.3 acidity.