Springbank Local Barley Campbeltown Single Malt Scotch Whisky 10 Year 10 year old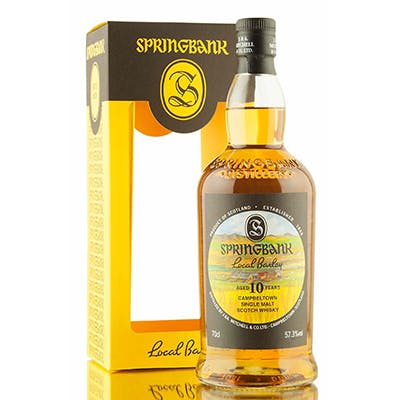 Unavailable
We're sorry, but this product is not currently available.
Springbank was established in 1828 on the site of Archibald Mitchell's illicit still in Campbeltown, Scotland. The distillery is now in the hands of Hedley G. Wright, Mitchell's great, great grandson – the fifth generation of the Mitchell family to own and manage Springbank. Being based in Campbeltown, the once proclaimed 'whisky capital of the world', it is no surprise that many of the methods established by Springbank's forefathers are still applied in the distillery today. The team uses traditional production methods and are involved in each and every step of the whisky making process. Springbank considers its whisky to be the most handmade in Scotland. Unlike any other distillery in the country, 100% of this process is carried out on one site, giving total control over the quality of the whisky. Passion and skill are poured into every last drop during production; ensuring whisky drinkers consistently enjoy the tastes and characteristics that have become synonymous with Springbank, Hazelburn and Longrow, the three distinct single malts.
The Local Barley Campbeltown Single Malt 10 year is a new release from Springbank's popular Local Barley series. This 10 year old single malt was made with barley that was grown locally near the distillery, and was aged for a decade in 70% bourbon casks and 30% Sherry casks. Look for aromas of caramel-coated shortbread, honey, chocolate ice cream and a whiff of bonfire smoke, followed by mint chocolate, tangy marmalade, oak and toasty peat on the palate. A hint of peanut brittle and cumin along with baking spices and more wood come through on the finish.