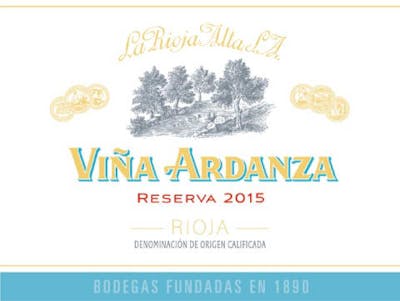 SKU: 10551
La Rioja Alta Viña Ardanza Selectión Especial Reserva 2015
---
$49.99
Save $10.00 (20%)
$39.99
---
A perennial top selling Spanish wine at the Bottle Shop, this Rioja is from the famous bodega named La Rioja Alta, founded in 1890 as a partnership of 5 quality-conscious growers keen to focus upon the export potential for well-made, 'modern' Rioja. At this time, French vineyards were ravaged by phylloxera, and connoisseurs were having to look elsewhere for supplies of fine wine. Rioja, with its excellent climate and soils, had already attracted attention, and experiments with Bordeaux-style vinification and barrique-aging were proving very successful.
In 1904, La Rioja Alta absorbed Bodegas Ardanza, and gained access to some of the finest vineyards in the Rioja Alta district. The luxury 904 bottling commemorates this important milestone in the company's development. La Rioja Alta has always maintained the highest standards, and continues to this day the tradition of careful long-aging that gives Rioja its unique character. These wines offer a wonderfully complex bouquet, rich flavors, a seductively smooth texture, and are all ready to drink on release.
For this Reserva, the Tempranillo grapes (80%) come from the estate's 30-year-old La Cuesta and Montecillo vineyards, located in Fuenmayor y Cenicero, and the Garnacha (20%) comes from La Pedriza vineyard in Tudelilla (Rioja Baja) at an altitude of 550 m above sea level. In March, the selected wines are put into barrels to start aging seperately. The Tempranillo typically for 36 months with six manual rackings in American oak, averaging 4 years, and the Garnacha for 30 months with five manual rackings in American oak barrels from 2-3 years usage.
A rich nose of raspberry, crushed strawberry, blueberry, coconut, cedar and sweet spice. It's medium-to full-bodied with fine tannins and fresh acidity. Creamy, balanced and layered with vibrant, spicy character. Long and polished. 80% tempranillo and 20% garnacha. Drink or hold.
I tasted two vintages of their sleek and polished blend of Tempranillo and Garnacha, the oldest of which is the 2015 Viña Ardanza Reserva. It's a blend of 78% Tempranillo and 22% Garnacha (because they found that they needed a little more volume in the wine) from a powerful, warm and ripe year, very interesting to compare with the 2016. They consider 2015 a very good vintage; they compare it with 2001, a year when they produced all the wines. There are three wines from 2015, and there is something in common in all thee wines. The grapes were picked in mid-October and put through optical sorting to ferment followed by malolactic until the end of the year. The wine matured in used American oak barrels—the Tempranillo for 36 months with six manual rackings and the Garnacha for 30 months with five rackings. I find it to be more tertiary, with hints of leather and cured meat and a little wild, very spicy. It has a powerful palate with plenty of tannin, and it even feels that it needs some more polishing of perhaps powerful food...
wa

91

Wine Advocate

ws

91

Wine Spectator

st

91

International Wine Cellar