Domaine Yvon Clerget Volnay Caillerets 2015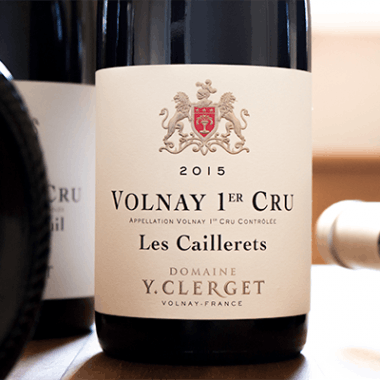 "The reborn Domaine Yvon Clerget could very well turn out to be one of the great recent success stories in Burgundy… Readers should do whatever they can to taste these wines. Thibaud Clerget is just 28 and appears to have a brilliant career in front of him. Bravo!"
–Antonio Galloni, Vinous
Thibaud Clerget is the 28th generation of his family to make wines in Volnay and Pommard. The Clerget family has been in Burgundy since 1268! The story of Domaine Yvon Clerget is one of rebirth. In 2009, Thibaud's father Yvon decided to retire from winemaking. Knowing his son had an intense passion to continue the family legacy, he made the decision to sell the grapes from the family holdings in the finest terroirs of Volnay and Pommard to Henri Boillot. During this time, Thibaud began studying the craft of vineyard management and winemaking from two storied names in Burgundy, Henri Boillot and Domaine Hudelot-Noellat. After this three year apprenticeship, Thibaud returned to take over the family domaine. In 2015 he produced his first wines and announced the re-emergence of Domaine Yvon Clerget. Quality of this kind from an inaugural release is incredibly rare and it is clear to all that have followed the rise of Thibaud Clerget, that benchmark status is imminent.
Volnay lies roughly in the center of the Côte de Beaune, bordered by Pommard to the Northeast, Monthélie to the West and Meursault to the South. The southeasterly exposed vineyards produce only red wines and 26 Premiers Crus. Crowned by a limestone plateau, the Volnay vineyards have a sub soil composed of Argovien marlstone and in its bordering parts of Pommard and Meursault, a Bathonien clay and limestone scree. The altitude varies between 230 and 370 meters above sea level. The premier cru vineyard Les Caillerets gets its name ("The Small Pebbles") from the light-reflecting stones that make up a distinctively high proportion of its soils. These are limestone dominant, particularly at the top of the slope, and offer excellent drainage. This means vines are forced to grow deep roots into the limestone to get at hydration and nutrients, which lessens the vines' vigor and yield and makes for small, concentrated berries, perfect for vinification.
VinousThe personality of the year seems especially evident in the 2015 Volnay Caillerets. Dark, pliant and dense, the Caillerets is bursting at the seams with fruit intensity and richness, but offers less in the way of site specificity. Exotic floral and spice notes build into the dense, explosive finish. In 2015, the Caillerets is superb, but it needs to be appreciated on its own terms.