Widow Jane High Rye Bourbon Bottleshop Private Barrel 13 year old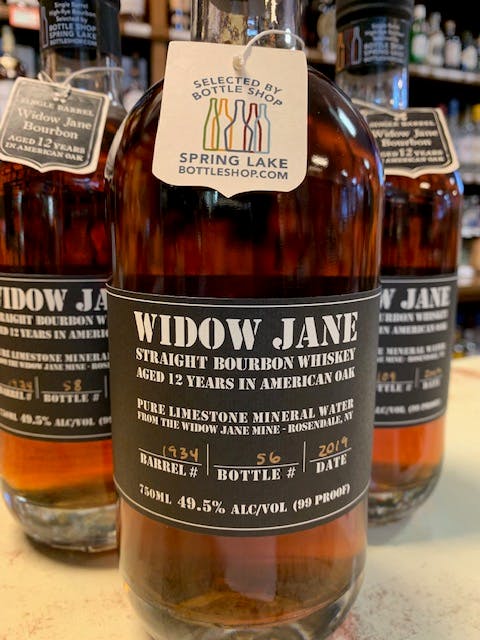 BOTTLED in 2020 :: We are very excited to release our fourth High-Rye Single Barrel Bourbon crafted by Widow Jane. Aged for 13 years in American oak, it is the only barrel of its kind and has been bottled exclusively for the Bottle Shop of Spring Lake. We had great success with our private barrels from Knob Creek, Old Forester, Elijah Craig, and Four Roses. This, our fourth Widow Jane barrel, is made from Rye, Corn and Barley. We love its honey citrus aromas, rich and smooth mouthfeel and long, round finish. Look for a full body with nuances of gentle spices, tangerine skin, chocolate and honey drizzled toast. Very balanced, this does not taste too 'hot' on the palate, since it it is unfiltered like all Widow Jane whiskies, you are going to see a deep, exotic color, and you are going to get tons of flavor with seductive toasted oak notes.
Widow Jane is a small batch Bourbon producer, impressing the most discerning of Bourbon lovers nationwide. Named the #1 Bourbon by GQ magazine, each bottle is numbered by hand. The whiskey is from Kentucky & Indiana and the barrels are aged in New York State where the pure limestone mineral water of the region complements Bourbon production. Currently, the distillery has a 10 year barrel on the open market, this is the only way to get your hands on a 13 year barrel made by Widow Jane.