Louis Jadot Meursault Les Tillets 2015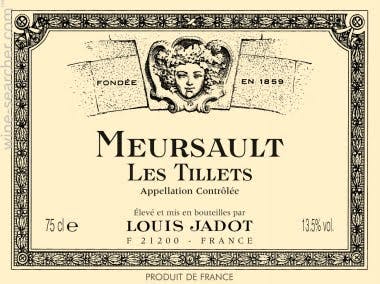 Unavailable
We're sorry, but this product is not currently available.
Founded in 1859, the house of Louis Jadot has grown and prospered in Burgundy by acquiring and managing exceptional vineyards. They currently own 528 acres of vineyards, including nearly 280 acres of the Cote d'Or's most prestigious Premier and Grand Cru plots. In Burgundy's Côte d'Or, where the integrity of the producer can be more important than a renowned appellation or vineyard, Maison Louis Jadot is one of the most trusted and revered wine houses. Jadot's wine making team, now led by Technical Director Frédéric Barnier, has maintained a balance of tradition and technology in winemaking that allows Jadot's wines to express the subtle differences between terroirs that are the essence of fine Burgundy. Though officially retired in 2013, esteemed winemaker Jacques Lardière continues to work in an advisory role and on special projects.
Meursault lies at the center of the Côte des Blancs, a region in the Côte de Beaune named for the quality and predominance of its white wines. The vineyards are chalk and white marl and are spread over gentle slopes between 230 and 360 meters above sea level; their desirable eastern orientation allows maximum sunlight. The grapes are handpicked and sorted, then gently pressed and fermented in oak barrels without artificial temperature control. Partial or no malolactic fermentation is permitted based on the vintage. A proportion of the wine is aged in barrels before bottling. Meursault Tillets is located almost at the top of one of the two hills in Meursault, close to the very famous Narvaux vineyard. In its character, it is close to the Puligny-Montrachet La Garenne in terms of vibrancy. Aged in oak barrels for 15 months before bottling, this Tillets is very lively, very fresh with a lot of minerality, elegant and well-balanced. Pair this vibrant yet lush white with shellfish, white fishes and roasted chickenThis wine can age very well even more than 10 years always keeping its freshness.