Cavallotto Barolo Bricco Boschis 2013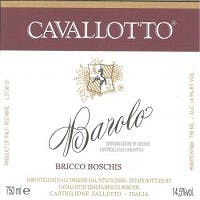 The Cavallotto family claims sole ownership of the beautiful Bricco Boschis cru in the Castiglione Falletto district (also home to Azelia), where they have been growing Nebbiolo since 1929 and bottling their own wine since 1948. Alfio, Giuseppe and Laura Cavallotto successfully continue the family tradition started five generations ago, expertly transforming the grapes grown exclusively from their holdings into the most classic expressions of Castiglione Falletto. The family's richly structured wines place emphasis on elegance and longevity, attributable to excellent vineyards in the Bricco Boschis and Vignolo crus and traditional long maturation periods in large Slovenian-oak casks. Steadfast devotion to tradition combined with a high regard and respect for modern viticultural and winemaking techniques result in complex and elegant Baroli that are released for sale only when they have acquired perfect maturity.
The estate produces three Baroli: two riservas and a Bricco Boschis bottling. The Vignolo cru, sloping 60-80 meters lower in altitude than the adjacent Bricco Boschis holding, shows a 'creamy' flesh. This wine here is the estate's selection of the finest vineyard within the Bricco Boschis cru which is called San Giuseppe; it is considered the epitome of Castiglione Falletto...a powerful, majestic wine of absolute authority whose sweetness comes with time.
Wine EnthusiastNew leather, menthol, woodland berry, dark spice and a whiff of pressed rose petal are just some of the scents you'll find on this radiant red. Vibrant and loaded with finesse, the structured palate delivers juicy Maraca cherry, cranberry, white pepper, star anise and a hint of pipe tobacco while youthfully taut noble tannins and firm acidity provide an age-worthy framework. It's already stunning but needs time to develop to its full potential. Drink 2023-2043.
Wine AdvocateCavallotto is on a roll with some very impressive new releases. The 2013 Barolo Bricco Boschis is a tremendous effort that has an edge on the excellent 2010 vintage in my view. The wine shows a beautifully exuberant but elegant bouquet with the ethereal and undertone fruit and spice aromas you get with Nebbiolo. Although the wine is never overdone, it does show silky persistence and a long finish that comes from the noble nature of the tannins and the wine's textural finesse. Yet, it is playfully deceiving in a way because behind that polished grace, it delivers impressive depth and power.
Wine SpectatorThis is packed with sweet cherry, currant, floral and spice flavors. The vivid acidity drives the intensity, while dense tannins lend support. This will take some time to harmonize, but should be well worth the wait. Best from 2022 through 2040.
VinousCavallotto's 2015 Barolo Bricco Boschis is pretty and open-knit, not to mention incredibly delicious in the early going. In some vintages, the Bricco Boschis can be imposing, but the 2015 is radiant and supple, with no hard edges and tons of sheer appeal. Bright red fruit, floral and spice overtones build as this racy, inviting Barolo shows off its considerable appeal.