Domaine Anne & Herve Sigaut Chambolle Musigny 2015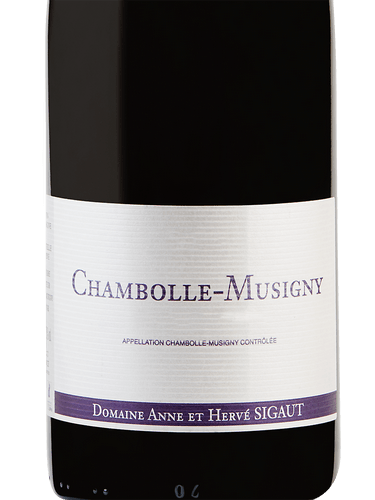 Unavailable
We're sorry, but this product is not currently available.
The village and appellation of Chambolle Musigny represents such beautiful Burgundian Pinot Noir at its most elegant and finesse-driven. The wines of Anne and Hervé Sigaut are classic and archetypal Chambolles with fine, elegant and floral aromas and flavors, ethereal, energetic textures, and wonderful chalky/mineral tannins that dance over your palate like a ballerina in silk. This small 7 hectare estate has been in existence for four generations. It is run by the amiable couple, Anne and Hervé Sigaut who are wonderful, low-key folks, true people of the earth who love what they do and clearly work hard to make the absolute best wines that they can, not for the outside praise, but rather because their inner 'Burgundian compasses' guide them to do so. Although they collaborate on all aspects of the production, she is a bit more in vineyards and commerce, and he more in the cellar. Because they don't own any Grand Cru vineyards, they have largely remained "under-the-radar" in a village that certainly doesn't lack for anointed stars. The range of premiers crus is diverse and first rate, including Fuées, Chatelots, Noirots and Sentiers, as well as small parcels in the Morey 1er crus, Millandes and Charrières.
Like their understated personalities and attitudes, the Sigauts prefer to make wines on the fine and delicate side, that caress rather than clobber. They are helped by a bevy of old vines, many 50-60+ years old, that have long ago tapped the mother rock of limestone that is the signature of Chambolle's wines. The vines are meticulously worked and tended during the growing season, as naturally and respectfully as possible. "We are 100% organic from the flowering on", says Anne Sigaut, "and before that, we intervene only when absolutely necessary if it is a question of saving the harvest. We also time our work in the vineyards and cellar to follow the cycles of the moon".
At the harvest, like most top estates now in Burgundy, the crew picks carefully by hand, with a sorting both in the vineyard and in the cellar on a table de trie. The grapes are then de-stemmed and fermented with indigenous yeasts with a gentle regime of maceration over the 3 week cuvaison. The wines are then pressed and moved by gravity to barrel for the élévage in 10-33% new oak, depending on the cuvée. The wines stay in barrel in general for 15-16 months, and are then racked by gravity to tank where they are held for a couple of months to harmonize and clarify naturally before a bottling without fining and filtration.
BurghoundA ripe and very fresh nose expresses notes of black cherry, raspberry and violet. There is very good mid-palate concentration to the delicious and vibrant middle weight flavors that deliver fine persistence on the balanced finish. If this can add a bit more depth with a few years of bottle age it could be an outstanding villages. 87-90