Andresen 10 Year Old White Porto 500ml Bottle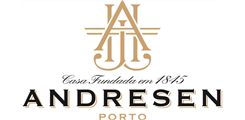 Unavailable
We're sorry, but this product is not currently available.
This is a fascinating white port aged for 10 years, which shows some classic characteristics of 10 year old tawny, but with the delicacy which comes with white Porto. Look for ripe quince, a hint of honey and wild flowers in the nose and mouth. This great Port house in Portugal was founded in 1845 by Jann Hinrich Andresen, at the age of 19, a young man who arrived from Denmark at a mere 14 years old. He founded Andresen as a traditional Port house that specializes in premium refined Port wines, which it remains to this day . More than 160 years since its beginnings, Andresen remains proudly independent, and is one of the few 100% family-owned Port Houses in Portugal. Andresen Ports are vinified at Quinta das Aranhas, near the Tua River, in the heart of the Douro region. The 40 hectares of A-rated vineyards assure the excellence of the most premium Ports of the Andresen range. Andresen produces Colheita Ports, aged Tawny and white Ports. Made from indigenous grapes : Malvasia Fina, Códega, Rabigato and Arinto. Serve with aged cheeses &Foie-gras, sweet desserts - Christmas pudding, mince pies, dried fruit cakes, creme brûlée.
Wine EnthusiastBeautifully balanced wine, showing slight age and maturity but also flavors of spice and orange marmalade. It has just the same balance between freshness and maturity as a 10-year old tawny, and gives as much pleasure.
Wine SpectatorThe ripe citrus, baked apple and golden raisin flavors are lush and well-spiced. Offers an angel food cake texture, with buttery notes on the well-structured finish. Drink now. 10,000 cases made.