Quinta do Noval Late Bottled Vintage Port 2012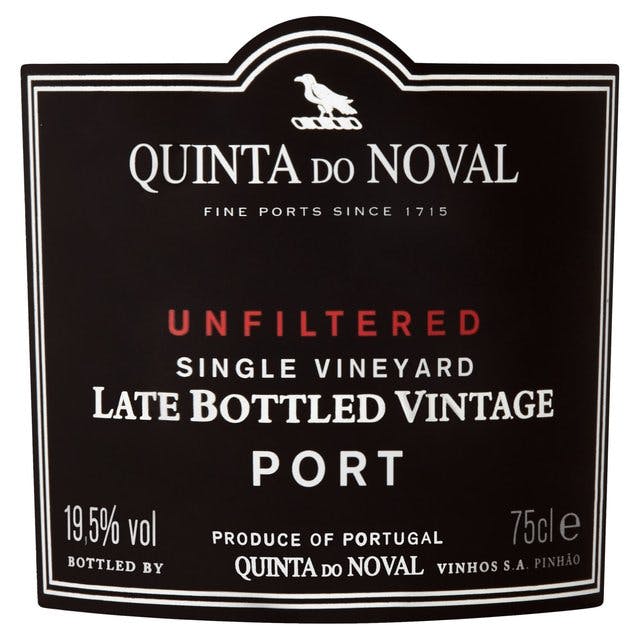 Unavailable
We're sorry, but this product is not currently available.
Drinking fine Port after dinner is one of life's most enjoyable 'simple pleasures'. Made by the legendary Quinta do Noval which is today owned by AXA Millésimes, Noval's L.B.V. is one of the best on the market. At high quality Port houses, L.B.V.'s (which stands for Late Bottled Vintage) Ports are made with the same care and consideration as a vintage Port. Grapes were trodden by foot and fermented in the lagares at Quinta do Noval. The wine matures for at least 5 years in oak casks instead of 2 years for a Classic Vintage. This explains its name, "Late Bottled Vintage". Longer maturing in casks helps provide a smoother wine and gives it its very approachable style, ready to drink as soon as it is bottled.
It is best to decant before serving, as it may have some sediment at the bottom of the bottle, or you may take care to not pour out the very last drops of the bottle. Serve with berry desserts, chocolate, or hard cheeses such as Stilton Blue and Aged Gouda.
Wine AdvocateThe 2012 Unfiltered Late Bottled Vintage Port is another fine Noval LBV, traditionally styled and bottled in June 2017 with a long cork. Noval is one of the region's finest and most consistent producers of traditional LBVs, wines that become more expressive and can develop with age. This is a little on the lighter side-that's the vintage, perhaps-but still respectably concentrated. It has fine, expressive fruit and the elegant styling for which Noval is known. This should drink well on release and hold well for a couple of decades (yes, traditional LBVs age well and develop). It will be released sometime in late 2017.