Continuum Proprietary Red 2014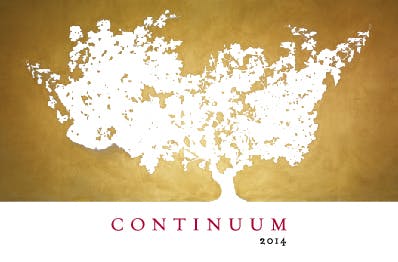 $275.00
Save $50.00 (18%)
$225.00
SKU 04128
750ml Bottle
Made by winemaker Tim Mondavi, Robert Mondavi's son, Continuum is a single estate wine from the Mondavi family's hillside vineyards up on Pritchard Hill. With the 2014 vintage, the Mondavi family celebrates their 10th Continuum release. This wine, while having beautiful vibrancy and richness of body, is more approachable than the well-regarded 2013 vintage. It has all of the body and aging potential to carry forward for decades to come. This is a blend of 65% Cabernet Sauvignon, 15% Cabernet Franc, 15% Petit Verdot and 5% Merlot.
Tim Mondavi's 41 acres of mature estate vineyard, with an average age of 20 years, has a variety of western and south facing aspects with plantings of Cabernet Sauvignon, Cabernet Franc, Petit Verdot and Merlot. Marcia Mondavi, Tim's sister, works alongside him on this small, quality-driven project. All of the fruit is hand harvested , hand sorted and de-stemmed, and then gravity-fed into small French oak barrels. In the end, 30% of potential lots were de-classified, as they did not meet Continuum's standards, and the wine typically spends 18-20 months in barrel.
Wine AdvocateThe 2014 Proprietary Red is comprised of 65% Cabernet Sauvignon, 15% Cabernet Franc, 15% Petit Verdot and 5% Merlot. Deep garnet-purple colored, it is still very primary and comes bounding out of the glass with exuberant crushed blueberries, black cherries, blackcurrants and violets notes with suggestions of dark chocolate, cast iron pan, lavender and underbrush. Medium to full-bodied, firm, very finely crafted and possessing great finesse, it finishes long and layered.
VinousA stunning wine, the 2014 Continuum exudes balance and class. Super-ripe red cherry, kirsch, mocha, menthol and rose petal infuse this beautifully layered, fragrant wine. The 2014 is layered and nuanced to the core, all while maintaining sublime finesse. At the outset, the 2014 is gracious and light on it its feet, but time and air bring out the wine's fruit density. Healthy dollops of Cabernet Franc and Petit Verdot complement the Cabernet Sauvignon nicely. Two thousand-fourteen is also the first vintage that incorporates co-fermented lots.
Wine EnthusiastThis estate red is named after its mountainous locale-a brambly vineyard on Pritchard Hill above Oakville. It combines quite ripe Cabernet Sauvignon with 15% Cabernet Franc, 15% Petit Verdot and 5% Merlot, projecting power and prestige with perfumed violet, dark cherry and savory leather and tobacco notes. Soft, pliable tannins add weight and texture. More time in bottle should add nuance; enjoy 2024-2034.