Gaja Ca'Marcanda Magari 2016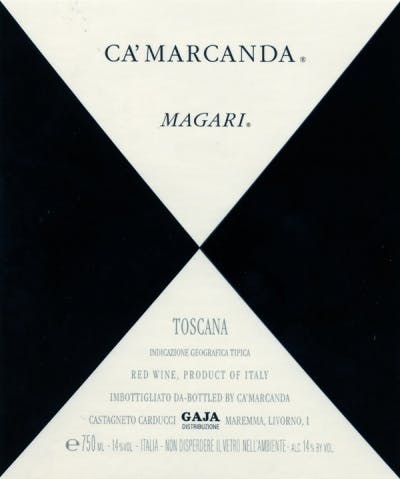 $79.99
Save $10.00 (12%)
$69.99
SKU 04015
750ml
In Italian, Magari means 'if only it were true', an expression used often in Italy to express desire, hope, and a vision of a bright future. This GAJA wine was so named to celebrate great things to come in the Bolgheri DOC region of Tuscany. Made of 50% Merlot, 25% Cabernet Sauvignon and 25% Cabernet Franc, the 2015 Magari is made from loam- and clay-rich terre brune (brown earth) soils, ideal for the cultivation of wines with pronounced minerality, black fruits and earth. With its lush Merlot fruit and its spicy Cabernet character, Magari expresses the essence of Bolgheri, rich and well-rounded, with an elegant, silky finish.
Along the Tuscan seaboard extending south from Livorno lies the Maremma where the village of Bolgheri is located. For centuries a marshland, it has established itself over the last quarter century as one of Italy's most prestigious wine regions. The area boasts an excellent climate for growing international grape varieties such as Cabernet Sauvignon, Cabernet Franc, Merlot and Syrah. Hot summer days are freshened by brisk sea breezes and cool nighttime temperatures, ideal for fully ripened grapes. The alluvial soil is unique in that it consists of two distinct types: terre brune ("dark earth", predominately loam and clay, with very little limestone or stone) and terre bianche ("white earth", primarily clay and sand, rich in limestone and filled with abundant stones and pebbles of different sizes).
It is in this region that wine icon Angelo Gaja, owner of the Gaja Winery, began a new winemaking venture — Ca'Marcanda. His aim was to transfer the experience of his Piemontese culture to the Maremma - to first acquire a thorough understanding of the potential of the different soil types and then to emphasize their specificity and uniqueness in the wines that are produced. The Maremma provides a perfect opportunity to apply this experience to growing international varieties. In 1996, along the road between Bolgheri and Castagneto Carducci, Gaja began planting 150 acres of vineyards, primarily with Cabernet Sauvignon and Merlot, but also Cabernet Franc and Syrah.
The Wine Advocate reports: '2016 was an important year in the wild world of Angelo Gaja. His most prized wines made in Barbaresco have now been returned to full appellation status (they are no longer IGT Langhe). His children, most notably Gaia Gaja, are taking on an increasingly public role to ensure a seamless generational transition. His wines, spanning from Piedmont in the far North of Italy to his two Tuscan estates, are showing consistent results and fully integrated production. This is especially true of his beloved Ca' Marcanda estate in Castagneto Carducci (Bolgheri), the apple of Angelo Gaja's eye.'
Wine SpectatorBlack currant and black cherry fruit mingles with mint, olive, graphite and tobacco notes in this red. Elegant, with ample density and bright acidity, ending in a firm, fruit-, mineral- and herb-tinged aftertaste. Well-proportioned and classy. Cabernet Franc, Cabernet Sauvignon and Petit Verdot.