Produttori del Barbaresco Nebbiolo Langhe 2017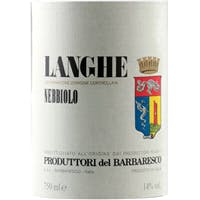 Produttori del Barbaresco is a world renowned producer of Nebbiolo-based red wines, specializing in Barbaresco. The wines are made from vineyards owned by 50 members who are all high quality growers within the Barbaresco DOCG appellation. Both Barbaresco and a Nebbiolo Langhe are produced. The former, first released in the 1958 vintage, is made by assembling grapes from different fully grown vineyards. This is the flagship wine of the winery, known all over the world for the solid quality and great value that it represents. The latter, first released in 1975, is made with a selection of grapes from younger vineyards in within the region. It is suited for earlier consumption and it is a great way to introduce one's palate to the beauty of the Nebbiolo grape and the Barbaresco terroir.
2015 is an outstanding vintage for the Langhe Nebbiolo made from vineyards of limestone and clay, rich in calcium with sandy veins. Full bodied, ripe and spicy with dark red fruit notes and powerful well integrated tannins, this will drink and age like a good, bargain-priced Barbaresco in this great vintage. Pair with pastas and pizzas, white and red meats, and cheeses and salumi.
Wine AdvocateFruit for the 2015 Langhe Nebbiolo is completely sourced from vineyards that are officially registered to make Barbaresco. Clusters are selected from the youngest vines and from the lower vineyard parcels (or other spots that do not meet the more stringent Barbaresco standards). This vintage shares some obvious similarities to 2011 in that the fruit is very ripe, round, supple and immediate. The wine is an absolute pleasure to drink right now, and it should hold for another five years without too much hassle. The alcoholic power is apparent (at 14.5%). The wine is a subtle shade darker in appearance with soft tannins and intense fruit. This wine gives us a very good sneak peek at what the 2015 Barbaresco expressions will be like.