Etienne Sauzet Bourgogne Blanc 2017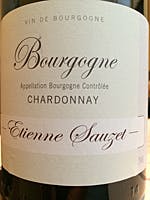 The domaine of Etienne Sauzet is made up of 26 acres, much of it in the heart of the finest premier cru vineyards of Puligny-Montrachet. The average age of the vines is 30-35 years. Gérard Boudot, owner of Domaine Sauzet, is seeking maximum finesse and an individual expression of the terroir in his wines. Boudot, who married the granddaughter of the late Etienne Sauzet, runs the domaine and has modernized and improved the vinification, making Sauzet wines among the most sought-after white wines of Burgundy. The estate has been bottling 100% of its production since the early 1950's. Since 1975, the domaine has been selling the entirety of its production in bottle. The white wines of Puligny-Montrachet are some of the most famous and most widely acclaimed in the world. This is undoubtedly due to the local microclimates and the clay, siliceous sand and lime contents of the soil. Champ Canet is one of 14 premier cru vineyards in Puligny-proper. This one is produced from a full 1 ha parcel of 40+ year old vines as well as some vines planted in 1938; aged in approximately 1/3 new oak with a slightly longer élevage than his other wines.
Winemaker Benoît Riffault speaks of the 2014 vintage: 'The 2014 vintage was not too difficult compared to 2012 and 2013. We had good flowering and not too much hail in Puligny at the end June. The hail was not too hard and there were dry conditions afterwards. Around July 10 we had some rain and that was good because some of the vines were on the limit [of hydric stress]. After that, August was not so good. However, it improved towards the end. The maturity was good with fine maturity of grapes with no rot. It is a balanced vintage with good fruit, a very Burgundian vintage in the spirit. It is my idea of a classic Burgundy. As far as a summary of 2014 compared to recent vintages, I think each one is the style of its terroir. The 2012's were compact with dry extract, 2013's were very juicy but in a 'cold' way, very citric with good acidity. The 2014s are more classic in terms of the fruit; a little bit more yellow, but with the balance of 2013.'
This Bourgogne Blanc comes from three different plots and is matured in four-year-old oak barrels, and had been bottled in August. It has a light and crisp bouquet with green apples, quite malic in style. The palate is fresh on the entry with crisp acidity, light and agreeable with an easy-drinking finish.